My grandparents have a huge lime tree in their backyard. I've been wanting to ask them if I could take a cutting, but first I'll need to be sure that the branch can be propagated. I'll be visiting them soon so sorry I don't have any pictures of the tree.
Here is a drawing of the new branch that has been sprouting out of the main stem: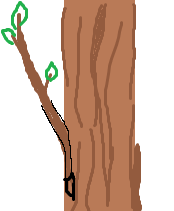 Will I be able to root that branch after snipping it off? It's around 25 inches (64 cm).