Joined

Jun 7, 2018
Messages

6
Reaction score

1
Location
Hardiness Zone

7a
Country
Hello all,
I'm new to this forum.. I am trying container gardening on my balcony for the first time this year. So far it's going pretty good. I have a black cherry tomato, a scotch bonnet pepper, a sugar baby watermelon, and a straight eight cucumber.
I do have a question about the cucumber plant. Its growing very well, but some of the leaves have been getting white spots on them. After research I concluded it may be powdery mildew, which prompted me to remove the leaves that were badly affected. However, today I came home to see some of the leaves crumbled up on its edges and a few with holes in them. Is this related? I have pics below. Hopefully you all can help (I'm sure you can!)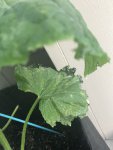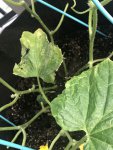 this is an overall look of the plant.