I bought a xanthosoma atrovirens albomarginata last Aug 19. It had 2 leaves, one of which already appeared to be yellowing.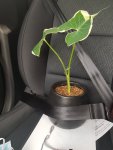 By Aug 27, that leaf was clearly being sacrificed by the plant in favor of a new leaf that had just unfurled.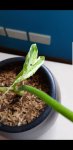 Almost immediately after the sacrificial leaf fell off, the older of the 2 remaining leaves began yellowing and drooping too, while the younger one kind of plateaued in growth.
The plant is about a foot from a south-facing window, and i watered thoroughly only once every ~1.5 weeks. This was just a guesstimate since the soil felt compacted and was difficult to break through with my finger, even right after watering. Strangely, water seemed to drain pretty well when i did give the plant a drink. Was it even getting properly absorbed by the soil, though?
Anyway, i guess i got impatient and decided that maybe the roots were suffocating in the compacted soil, so i repotted. To my surprise, though, when i finally broke through the old soil, there was no corm--just the stem and maybe 2 inches of roots (sorry, no photo). Knowing that, should i have used a smaller pot? Or not watered so thoroughly right after repotting? That was just 3 days ago. The older leaf is now gone, and the newer leaf is almost completely yellow. Kind of sticky too.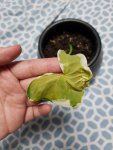 Could the plant possibly come back from the dead? Even if it didn't seem to have a corm, can i still just leave the roots in the pot after the last leaf has fallen, and pray for a resurrection? Is it safe to reuse the soil for another plant?
Any advice and/or words of consolation would be greatly appreciated. Every plant is a learning experience, i guess. Thanks for reading through that long story!
Last edited: