Joined

Aug 16, 2022
Messages

3
Reaction score

0
Location
Country
I started four
Okra "Red 98"
from seed this spring, and they were doing great in my garden until about three weeks ago. Two of the plants started showing symptoms of leaves yellowing, drying out, and falling off. I took pictures of a couple early signs of distress on 7/30 (which had already been present for a number of days):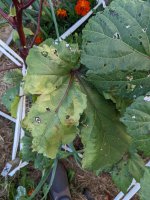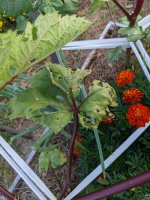 And one of the whole, more significantly distressed, plant on 8/4: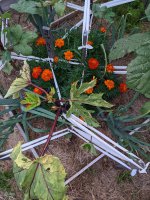 At that point it was significantly stunted compared to its healthy neighbors—maybe 6" to a foot shorter, much smaller leaves, etc.
Over the past couple weeks those two plants have basically totally died. All their leaves have fallen off, and while new ones continue to (slowly) appear, they shrivel and die before getting more than 1-2" in size. I pulled one of them today to repurpose the space and examine the roots, and they look surprisingly normal, to my admittedly untrained eye. I don't see obvious signs of rot from disease or overwatering—though I do wonder about those white spots just below the former soil line—are they a concern? Here's the whole plant from top to bottom (taken last night, 8/15):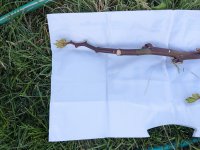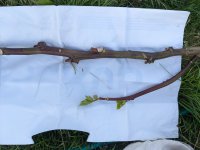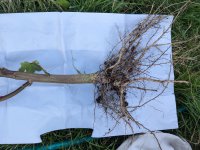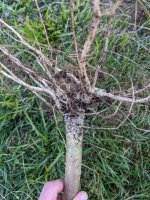 If that were all, I'd be sad but not too upset—the other two plants are more than productive enough for my needs. Unfortunately, 4-5 days ago I started seeing the same early signs on one of the healthy plants. Here's a couple leaves that are
just
starting to show the problem: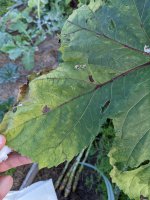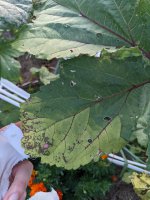 And a couple that should look awful familiar from the first two (though these have progressed a bit further yet):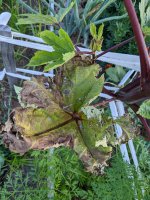 So here's the thing. I did all the usual Googling of Okra diseases and pests, even asked my local cooperative extension office, and nothing is quite right.
Most environmental factors seem unlikely simply because there are four plants right next to each other, yet one is totally fine, two are completely dead, and one was fine until recently and now is starting to have issues. But in any case:
I don't think I'm under- or over-watering—I've been using public rain gauge data and one of those moisture probes to guide watering, I know to water at the base of the plant, and my sense is that under-watering especially would likely produce obvious whole-plant wilt without immediately killing the leaves—it just doesn't match my symptoms. Over-watering can be more insidious, I know, but I just can't see it from how much water they've actually gotten—and the fact that the roots show no signs of distress that I can see. They're in (slightly) raised beds, too.
Lack of nutrients...I could probably stand to fertilize, but this seems like it would just slow them down or reduce yields, not kill them outright! Are there any specific nutrients that could be a problem, the way e.g. calcium is for tomato blossom end rot? And even then, how would that kill the whole plant?
The weather has been...eh, middling. There was a relatively cool and damp period, but the first two plants were showing issues prior to that, and it wasn't like the garden turned into a swamp at all—paths were always dry when we got there, just it was raining many days and 60s and 70s rather than 80s and 90s. Really it doesn't get much better than this in Michigan, is the thing.
Soil quality, I added a lot of compost over the years but haven't been for a year or two—I'm planning to go back to that next year, too late now. The original native soil probably wasn't great, at least somewhat clay-heavy. I haven't done any testing of the pH or any nutrient levels—is that something I should seriously consider? (My moisture probe reports pH, not sure how accurate though, I'll at least check that tomorrow night.)
They definitely get enough light—full exposure, no shade, they're the tallest thing for 30ft except a sunflower here and there.
Pests or (particularly) diseases seem like the obvious guess, but:
Fusarium or Verticillium wilt, as I understand it, would produce a "wetter" rot (the dead leaves are completely dry here and I see no evidence of rot on the stem or roots), the leaves would droop more but not fall off as quickly, etc.
Charcoal rot is just obviously wrong AFAICT, there's no sign of the characteristic charcoal-y appearance. Same deal with rust, there's just nothing rust-like going on. (The reddish spots in one picture are a normal part of the leaf coloration.)
Southern blight is maybe the best guess I have, but again, I see no evidence of rot on the stem or roots—with the possible exception of those little white nodules, but nothing like the rotted mess I've seen in pictures. There are lots of tomato gardeners around and blight is definitely "in the air", so to speak (in the soil, I guess), but the symptoms just don't seem right—or can it express itself this way?
There's definitely something eating the leaves, but not severely, which my reading suggests means it's not likely to be a problem. It's also not any worse on the distressed plants than the healthy one. I meant to turn the leaves over etc. and see if I can identify the particular pest, but forgot—I'll do that tomorrow night. Japanese beetles, aphids, flea beetles and cucumber beetles are all things I've seen elsewhere in the garden.
So! I'm completely stumped. Any ideas?