I received this plant about a month ago. The lady told me to wait until it was about two feet tall until planting so to keep it in the container until then. I'm worried it's not growing at the right pace or it's dying... I'm not a gardener but I think there's a tiny bit of leaf tip burn and drooping? I added some mulch from an article I read online. It's been watered every day but I see online that it should be watered every 2-3 days or once a week? It also has been fertilized slightly, is that a problem? It doesn't feel like it's getting any taller.
This was about a week ago. I wasn't sure what the green thing was, but I think it's been removed.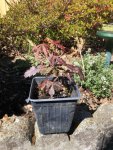 This was today.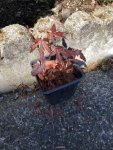 With the addition of some mulch.