Joined

Apr 5, 2020
Messages

7
Reaction score

0
Location
Hardiness Zone

9b
Country
Hi everyone,
I am new to the forums and a relatively new gardener. I've had a dwarf meyer lemon tree for about 4 months now. For about the last month or so, the leaves have started turning yellow around the edges (pictures attached). I feel like this started happening after I prophylactically sprayed the leaves with neem oil and gave it some citrus branded fertilizer one time (picture attached). That was the first time I fertilized it and I haven't fertilized since because I drew this connection in my mind.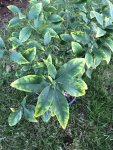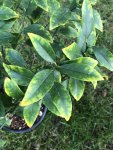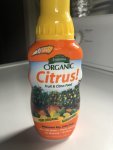 I've left the tree in its original 1 gallon plastic container. It hasn't grown much since I got it so I thought that would be sufficient for now; plus it's easier to move to the bath tub to water it. I water it about twice a week in the bath tub by slowly adding water until the soil is fully saturated. I live in the Pacific Northwest, so I had it indoors but now this past week, I've been taking it outside for a few hours at a time while the weather is warming up. Otherwise, I spray the leaves once or twice a week to help keep them moist.
Any idea what might be happening? Thank you so much for your time and help! Apologies in advance for my gardening ignorance!