I've designed a indoor vertical strawberry grow tower to maximize space in my 2x4ft grow tent. It will be very similar to this one: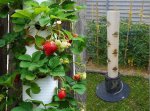 Because I travel quite often and sometimes for up to 4 weeks I am looking a building a wick system with a reservoir implemented into the top. My I have a house sitter that is willing to come by once a week that would be willing to refile the reservoir and a little pruning. My worry is that the soil wont drain and I may get mold or root rot. Heres the prototype drawing:
Is the wick a good idea or will it over saturate the soil and prevent it from drying out?
Is a once a week refill enough? How big should the reservoir be?
thanks in advance.