So I want to start this project of creating a greenwall/living wall in my living room.
Since I can't find that much information about what materials to use and in what order of placement.
I will be dripping down water form above and the plants will grow with as least as possible soil between the felt layers.
The middle three sections I'm unsure of the order.
Drainage layer, High permeable synthetic cloth.
Anti-rooting membrane

Aeration layer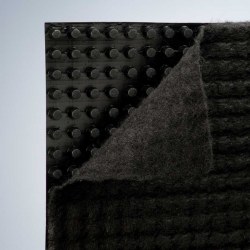 The aerationlayer is basicly a drainlayer but the gaps will provide aeration to the roots. Will I still need a drainage layer cloth?
I've been adviced to use polyethylene corrugated sheets, but my local shop only provides polycarbonate. Does this release toxins when drilled into or with longterm water contact?
Thanks