Hello,
I have been struggling with my peace lily for quite some time. It was a small, healthy plant till 2 months ago. Then with the onset of summer (high temperatures and dry weather here), the leaves started wilting and the ends of the leaves were turning black and spreading inwards. If I snipped off the black portions, the next day the edges would turn black again.
This is the state it was in 1.5 months ago - the black edge of the leaf is visible, the leaf in the middle curled up (vertically) and a new leaf (visible on the right as a stalk) started growing when I put it in a dark cool room.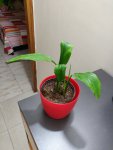 However that new stalk took a month to grow into a full leaf and meanwhile the other leaves worsened. So I had to snip them off. And the new leaf also immediately curled up vertically.
Now these are the only remaining leaves I am left with. I took out the plant from the pot to check for root rot (there was a little of it, so I snipped off the soft black roots) and have kept it in water hoping for a miracle.
The only change I see is that the leaves were pale green, now one of them has turned dark green. But they are still weirdly curled up and black spots are still developing on them.
Please help!