You have seen the Hugelkultur gardens growing greens, tomatoes, peppers, but I have shown you little of the patches of gardens and container gardens around the yard. Below are the hugelkultur mounds growing varieties of melons, such as honeydew, cantaloupe, watermelon.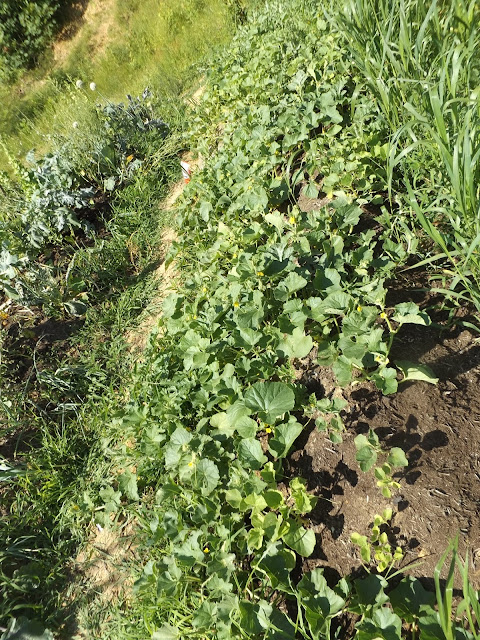 melons growing on hugelkultur
Santa claus melon plants
Another hugelkultur mound, located in front of the house, is growing pumpkins. This location receives little sun, but there are patches of sun throughout the day. One problem we have been having with this hugelkultur mound in particular is that there are critters living inside and eating the roots and plants. I think birds watched me plant pumpkin seeds too and ate them. I noticed that many seeds and plants were dug up or eaten, and there were holes made throughout this bed. I am fortunate to have this many pumpkins left.
pumpkins growing on hugelkultur
I am growing buttercup squash for the first time. For these, I dug 6 big holes, filled with garden soil and planted the seeds. These have grown quickly, located in full sun in between the herb garden and grape vines. They are growing on a slope so that they can crawl downhill.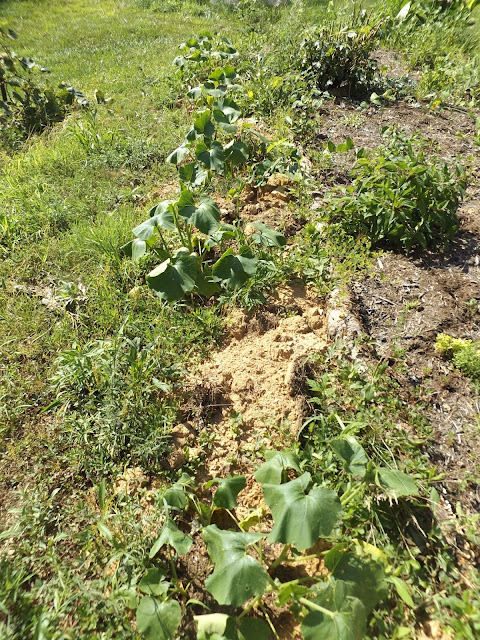 buttercup squash plants
Also in the front of the house is a patch of cucumbers with a trellis. The trellis is a wire fencing attached to metal posts in the ground. The fencing is leaning so that the cucumbers will easily crawl up the trellis.
Beside the rows of cucumbers are a large mound of potato varieties, tomatoes, and peas growing on a trellis. This garden patch gets morning sun, but the maple trees shade this garden for most of the day.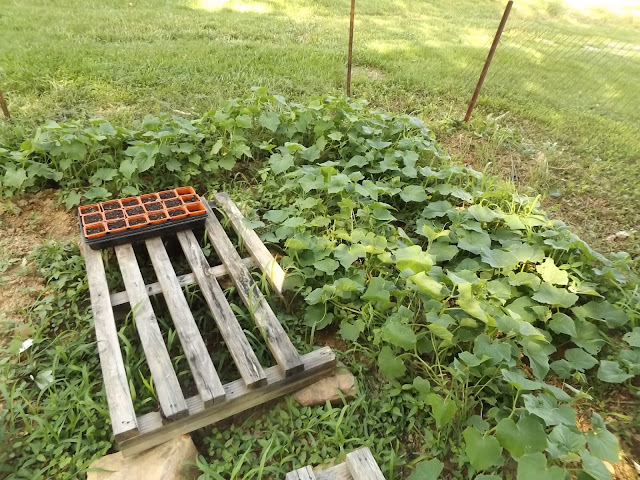 cucumbers growing
tomatoes, potatoes, peas, & cucumber patch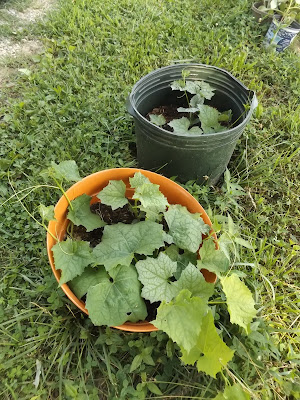 Luffa plants growing in containers
I have some plants growing in large containers, such as Luffa (loofah) plants. I have yet to make a a trellis for them. I have been eying the fencing that I was using for the raspberries, so maybe I'll fashion the fencing into a trellis for them.
For the cucumber plants, I leaned a pallet up against a building for the cucumbers to grow upwards, and also a piece of a baby crib for another container of cucumbers.
Other vegetables I have growing in containers include Tomatoes, black eyed peas, black beans, and a melon plant that is either Santa Claus or Canary melon.
Cucumbers in containers
Cucumbers & Tomato trellis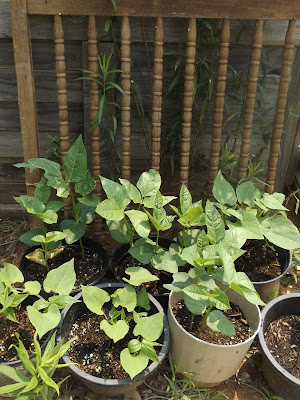 black eyed peas & black beans in containers
canary or santa claus melon plant
Original post @ Buttercup squash, Cucumber trellis, pumpkin & melon hugelkultur

-Cassie K, vegans living off the land