Your Garden
Welcome to my native garden!
My native garden was first created in 2014 after deciding that I needed to help wildlife. It initially began as just a 64 sq. ft. garden, but after adding on a few times over multiple years, it's now roughly 900 sq. ft. I also have a small vegetable garden. Below is a blueprint I created of my native garden. The east section was added in 2014 and 2015, and the west section was added in 2016, which added over twice as much garden space, as well as a small shady area under a spruce tree where I could plant native ferns and other shade-loving species. In 2017, a small shed was added and I created an additional small native garden around it.

My garden is a habitat restoration filled with plants that are native to North America. I currently have around 35 different species. Most are native to Wisconsin, but a few species are native to other parts of the Unites States. My garden is highly influenced by prairie remnants and restorations that I've visited in Wisconsin. While a true prairie has up to 80% grasses, I currently only have a few grasses in my garden and I'm working to add more.
If you live in an area that contained original prairie habitat before it was destroyed, there are many benefits to a prairie-style garden. It provides habitat to all sorts of insects and animals, it out-competes most weeds, and, because native plants are used, it wont need to be watered once established. After its second or third year, it'll explode in color and will become nearly self-maintaining. Native gardens double as miniature nature sanctuaries. They provide relief for insect and animal species that are in desperate search for food and shelter. Insects, birds, reptiles, amphibians, and mammals all benefit from native gardens. I've seen life increase in my native garden every year.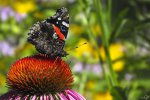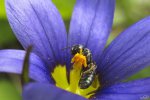 It was important to me to make the garden very bright and showy, even from a distance. I wanted to add as much color as possible, while also adding the most beneficial plants I could possibly have. Reds, oranges, yellows, blues, purples, pinks, and whites can all be seen in the garden during the growing season, and they all benefit native wildlife.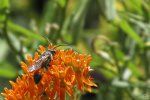 It was also important to me to add very specific plants that attract certain wildlife. Meadow Blazing Star and Milkweed are Monarch Butterfly magnets. Purple Coneflowers attract a wide variety of bee and butterfly species. Wild Columbine and Scarlet Bee Balm attract Ruby-throated Hummingbirds. Common Blue Violets are the food source for various Fritillary caterpillars. Wild Bergamot is known to attract Hummingbird moths. Most of the species I've planted were planted to attract specific species or to provide nectar at specific times of the year, ensuring that my garden has nectar sources from April through October.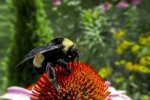 When spring arrives and it's time to cut the plants down to the ground,
I don't
. I cut stems down to about one to two feet tall. Those stems then become shelters for insects, and bees will even lay eggs in them. In the photo below, you can see a dragonfly resting on one of the many hollow stems in my garden. Stems that are not naturally hollow will often be hollowed out by small bees. The stems are hidden by new growth before summer.
Below is a complete list of every plant in my native garden, categorized by flower color. Clicking on each name will bring you to each plant's profile on either the Missouri Botanical Garden website or the Illinois Wildflowers website. That way, you can easily learn about any of the plants I grow.
Red
Blanket Flower (Gaillardia X grandiflora)
Indian Pink (Spigelia marilandica)
Long-headed Coneflower (Ratibida columnifera)
Scarlet Bee Balm (Monarda didyma 'Jacob Cline')
Wild Columbine (Aquilegia canadensis)
Wild Ginger (Asarum canadense)
Orange
Orange Milkweed (Asclepias tuberosa)
Yellow
Black-eyed Susan (Rudbeckia hirta)
Brown-eyed Susan (Rudbeckia triloba)
Bush's Coneflower (Echinacea paradoxa)
Common Sneezeweed (Helenium autumnale)
Gray-headed Coneflower (Ratibida pinnata)
Lanceleaf Tickseed (Coreopsis lanceolata)
Partridge Pea (Chamaecrista fasciculata)
Smooth Oxeye (Heliopsis helianthoides)
Stiff Goldenrod (Oligoneuron rigidum)
Green
Ostrich Fern (Matteuccia struthiopteris)
Sensitive Fern (Onoclea sensibilis)
Wood Fern (Dryopteris sp.)
Blue
Blue-eyed Grass (Sisyrinchium angustifolium)
Blue Flag Iris (Iris virginica)
Confederate Violet (Viola Sororia f. princeana)
Great Blue Lobelia (Lobelia siphilitica)
Spiderwort (Tradescantia ohiensis)
Wild Lupine (Lupinus perennis)
Purple/ Pink
Common Blue Violet (Viola sororia)
Joe Pye Weed (Eutrochium purpureum)
New England Aster (Symphyotrichum novae-angliae)
Purple Coneflower (Echinacea purpurea)
Swamp Milkweed (Asclepias incarnata)
Wild Bergamot (Monarda fistulosa)
Wild Blue Indigo (Baptisia australis)
Wild Geranium

(Geranium maculatum)
White
Flowering Spurge (Euphorbia corollata)
Foxglove Beardtongue (Penstemon digitalis 'Husker Red')
Nodding Onion (Allium cernuum)
Rattlesnake Master (Eryngium yuccifolium)
Whorled Milkweed (Asclepias verticillata)
Wild Strawberry (Fragaria virginiana)
Grasses
Blue Grama (Bouteloua gracilis)
Little Bluestem (Schizachyrium scoparium)
Sideoats Grama (Bouteloua curtipendula)
You can check out my personal pond and garden showcase by clicking the image below: