Jalapenos produced better than any other plant in my garden. It's a shame Jalapenos grow so well for so long, because I usually don't know what to do with them upon eating. Occasionally I'll cut up three jalapeno peppers with tomatoes, corn, other peppers, and onion, steam veggies, then serve over black beans and rice.
Considering we have so many jalapeno peppers, banana peppers, and hot peppers, my partner wants to pickle them or make a jam. The only peppers I can tolerate to eat are the Sweet varieties.
I have harvested banana and green peppers yesterday as well. In the photo below are the varieties of peppers, a tomato, and large and small purple turnip. The turnip seeds were grown from non-GMO
Veganseeds
company.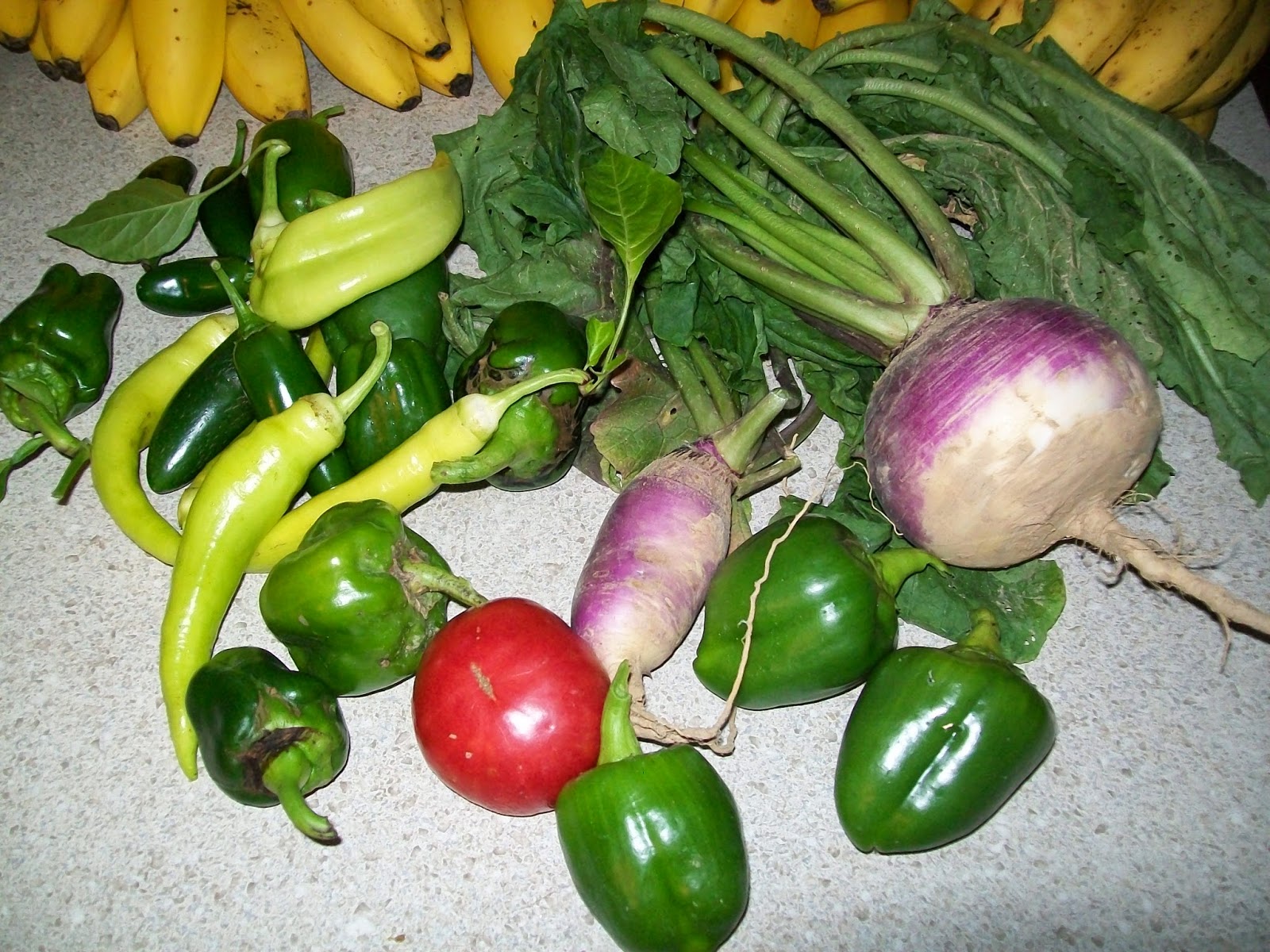 October 19th garden harvest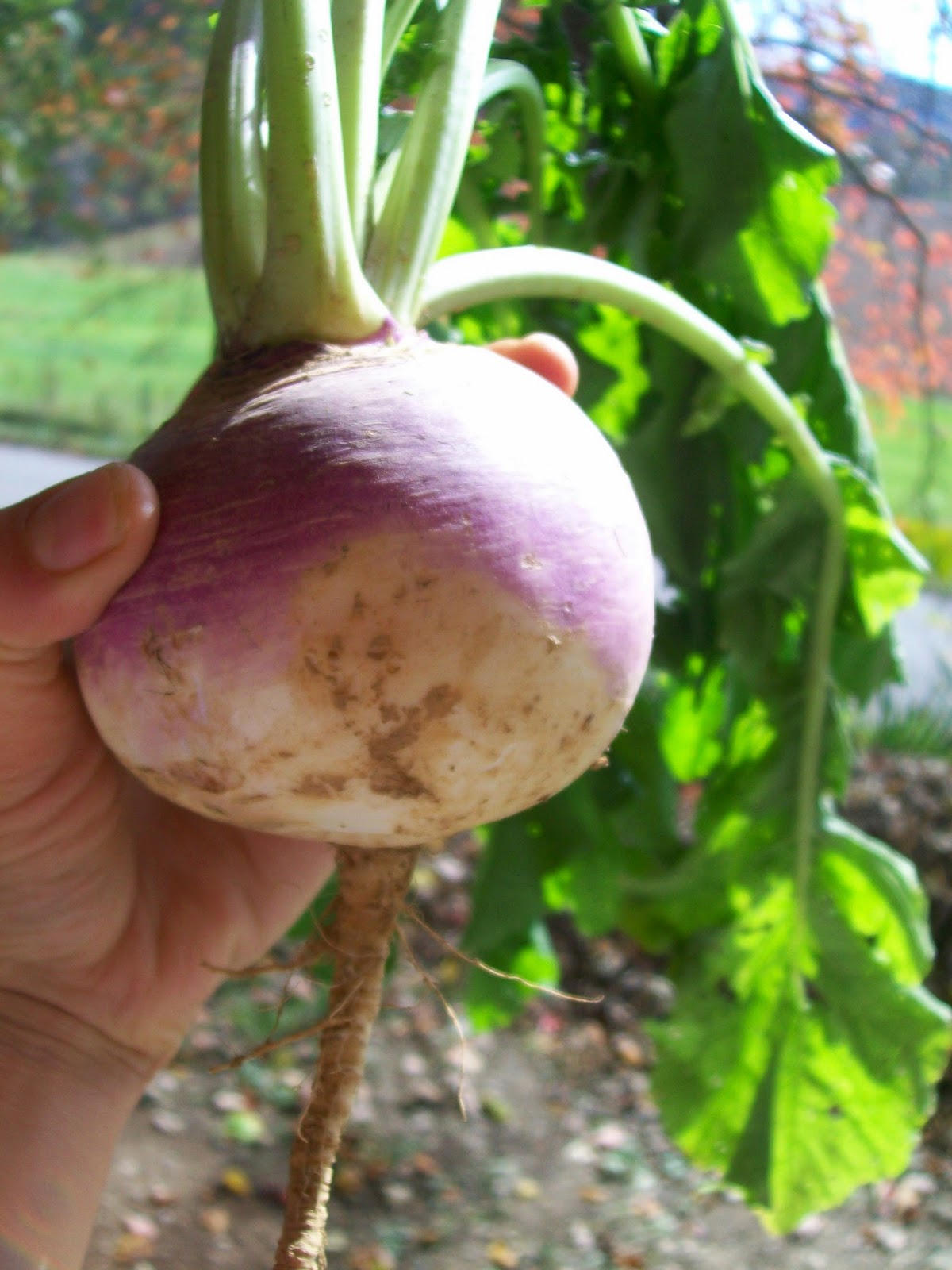 Purple turnip
During August to June the garden harvest is much more plentiful, harvesting up to 20 lb of food everyday. I will soon compile the pictures of my garden harvests and calculate how much food I produced within the last six months of growing. My prediction so far is that I have harvested under $1300 worth of food, considering I grew over $1300 worth of food last year in the garden.

The peppers have been producing everyday, so we usually harvest them everyday. Here are a few photos of the banana, jalapeno, Cowhorn, and Cubanelle peppers along with Green peppers, potatoes, lettuce, kale, tomatoes, dill, and persimmons I have harvested in September through October:
October 22nd lettuce & dill harvest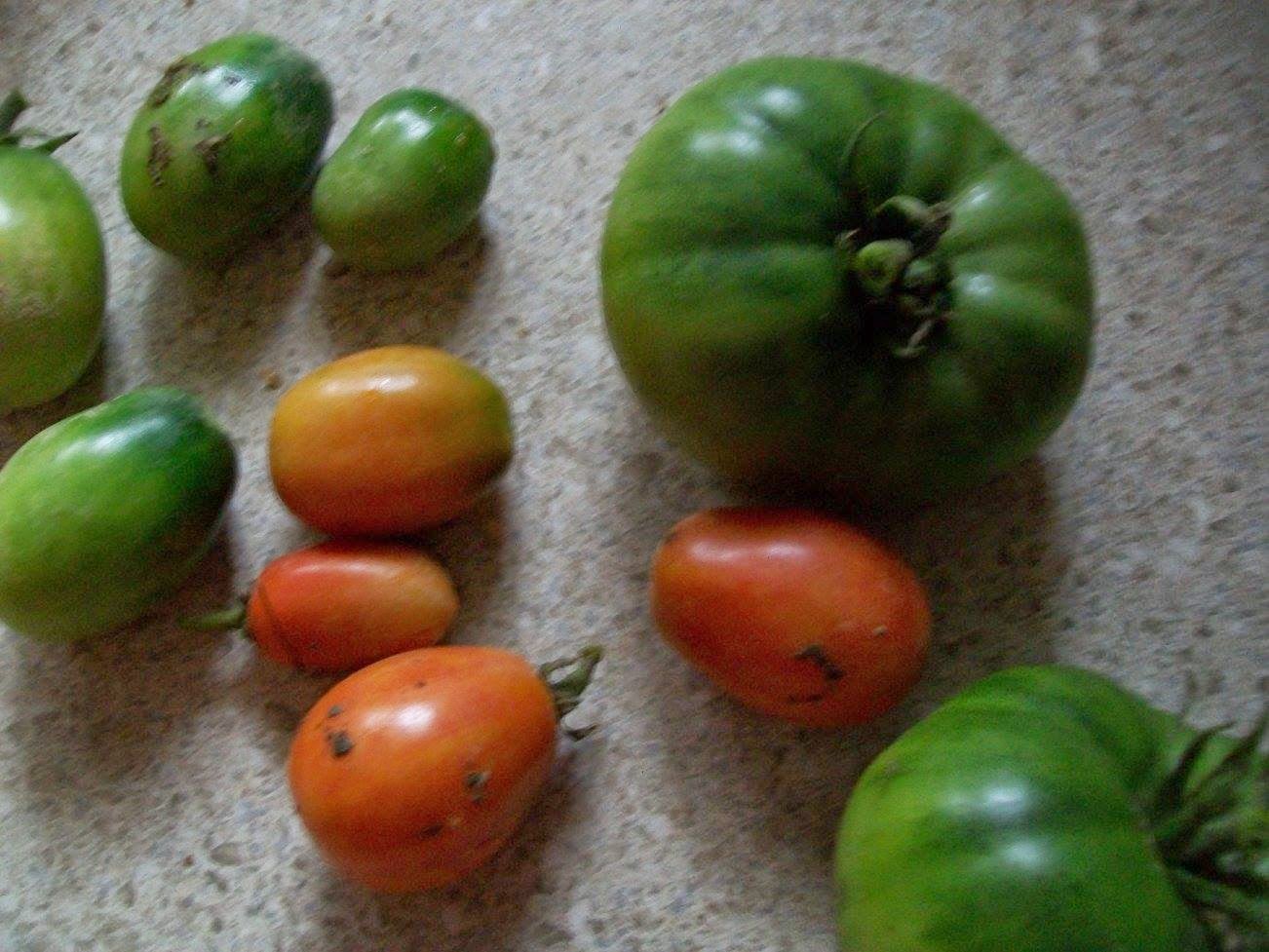 October 22nd 2014 tomato harvest
October 30th 2014 Pepper Harvest
October 20th garden harvest, greens & peppers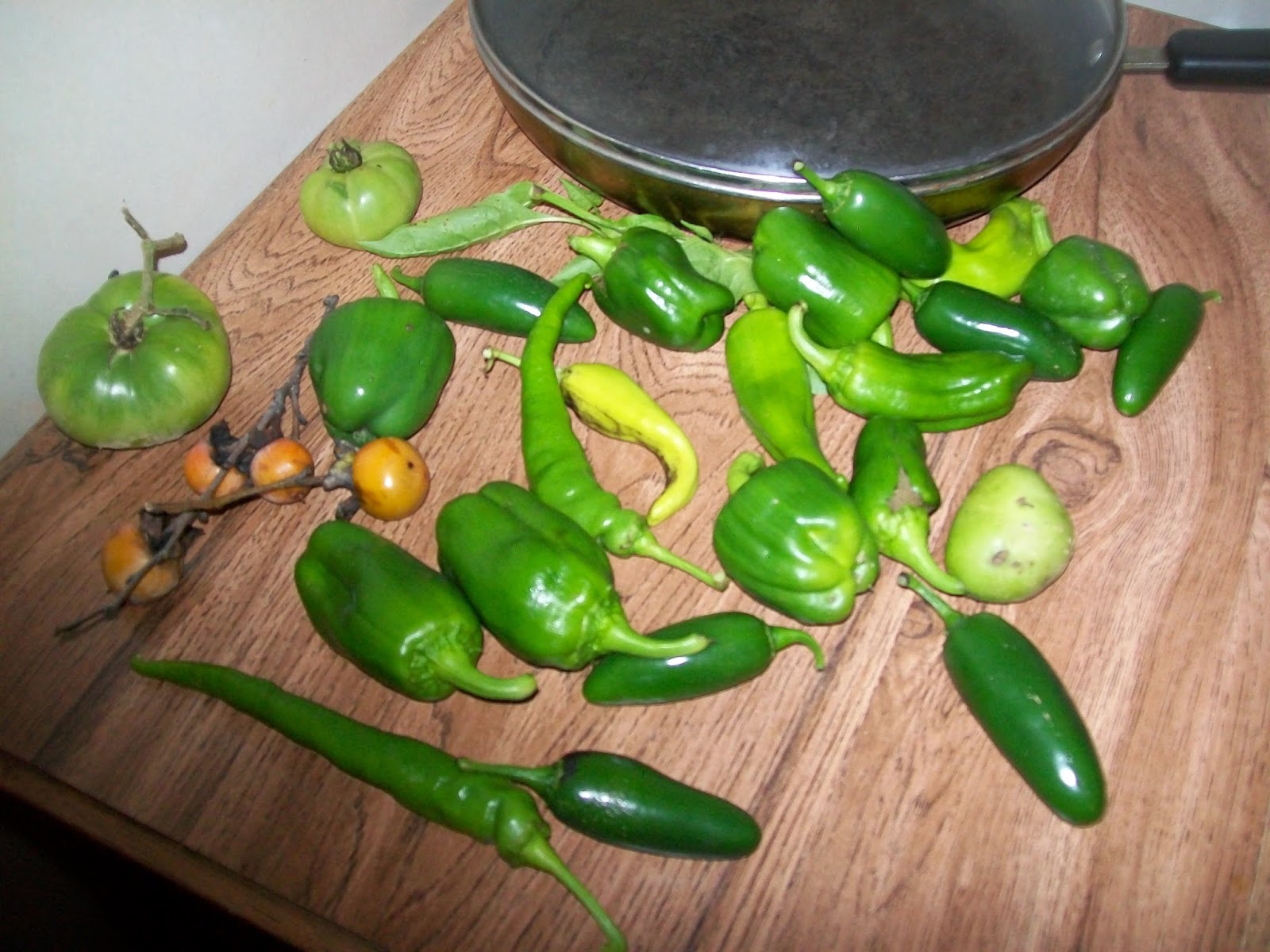 October 16th garden harvest, peppers and tomatoes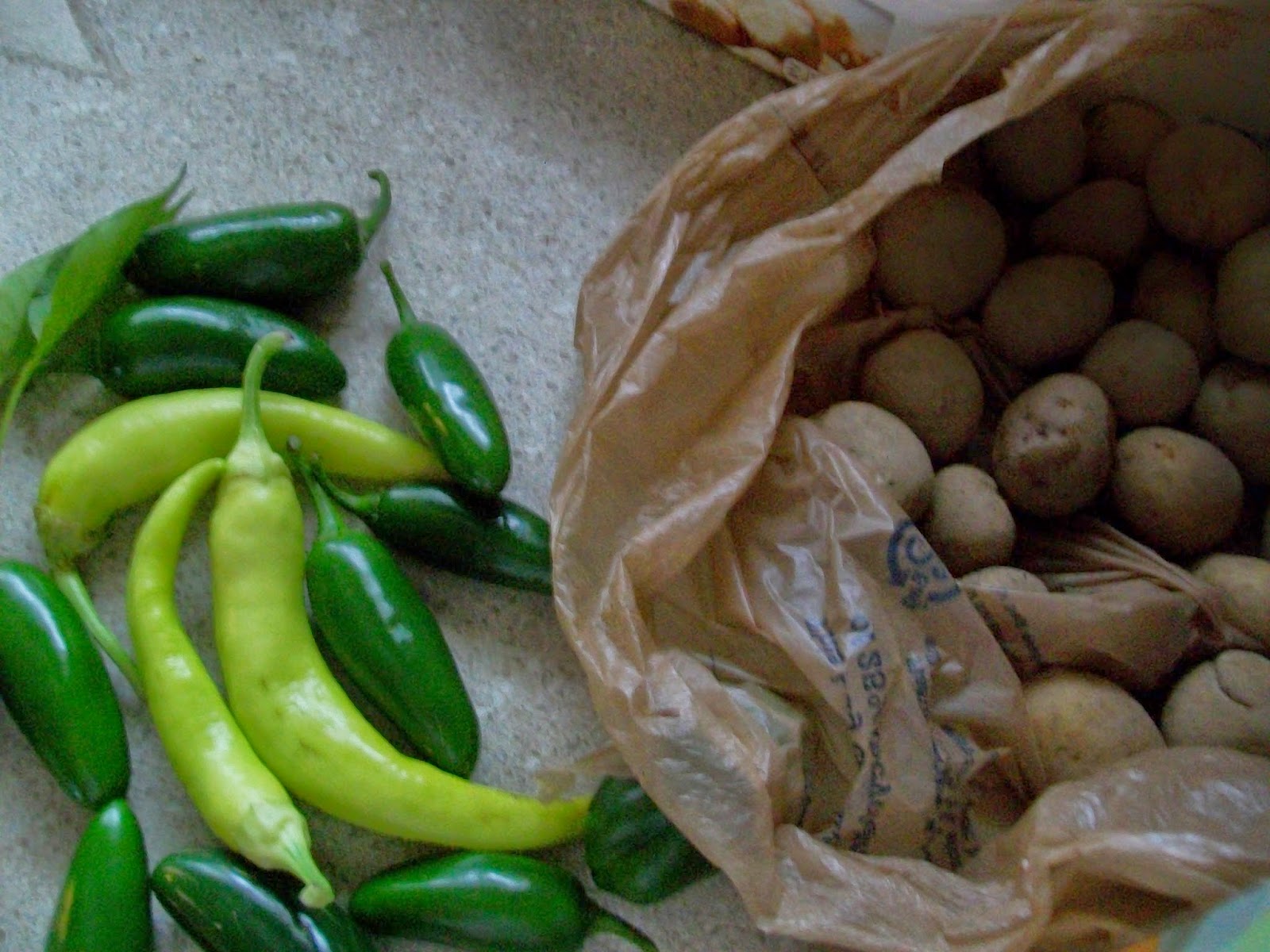 October 11th harvest, potatoes and peppers

In the following two photos are two varieties of Persimmons. One has the taste of Pumpkin pie and the other taste like Orange flavored Icy-pops.
October 17th persimmon forage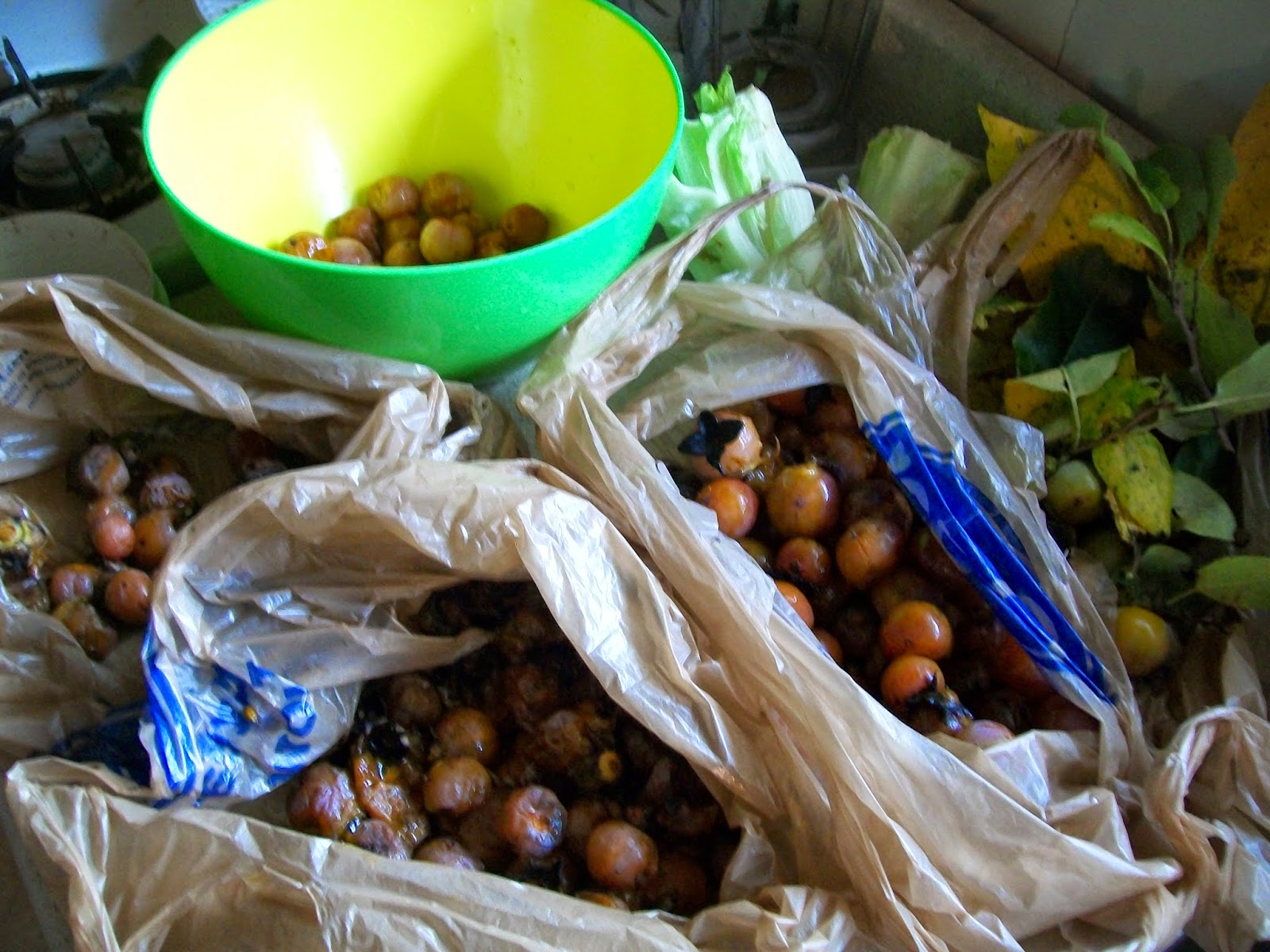 October 7th persimmon forage
October 8th Lettuce, Kale, dill, tomato harvest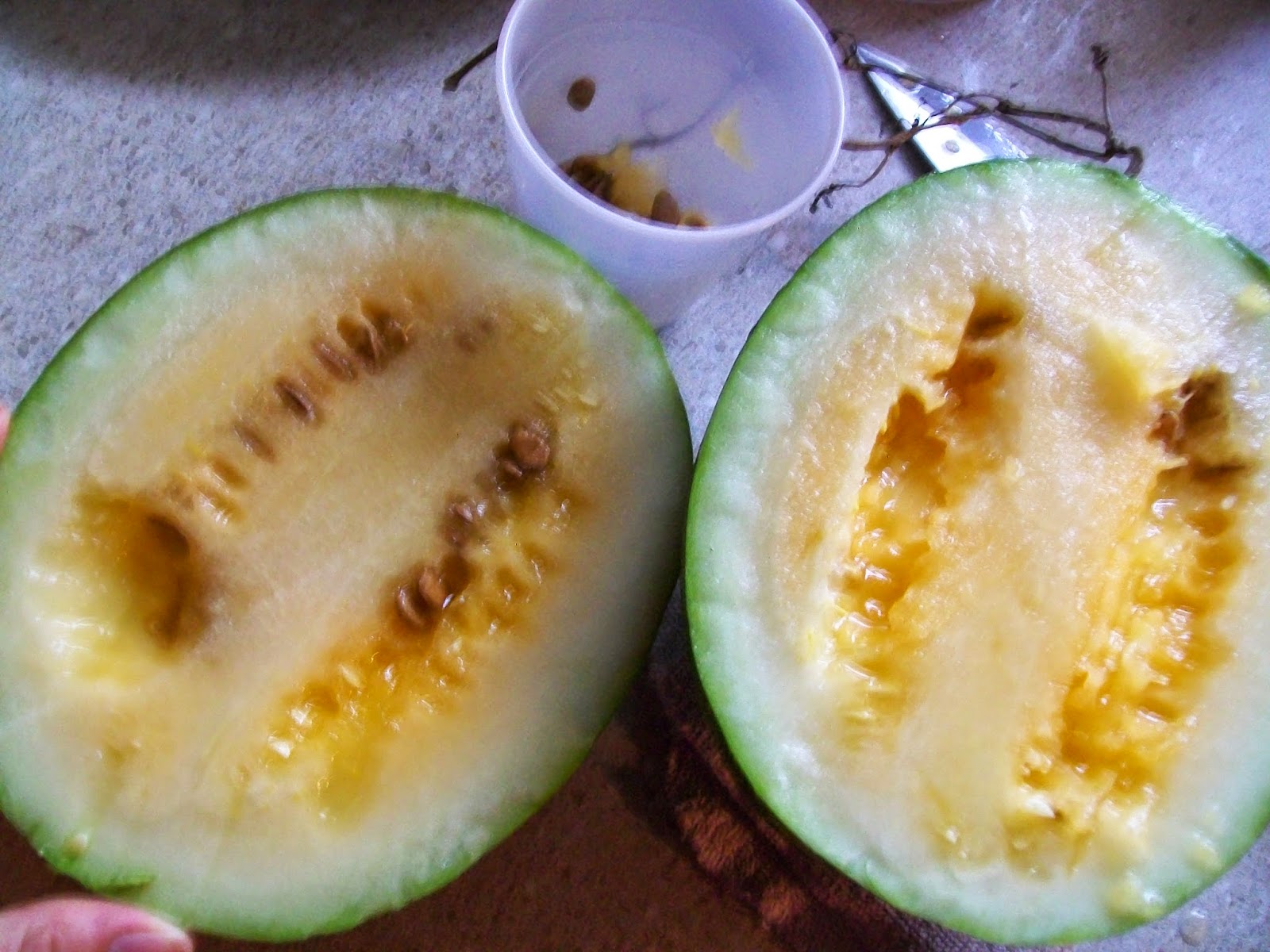 October 7th harvest, Yellow watermelon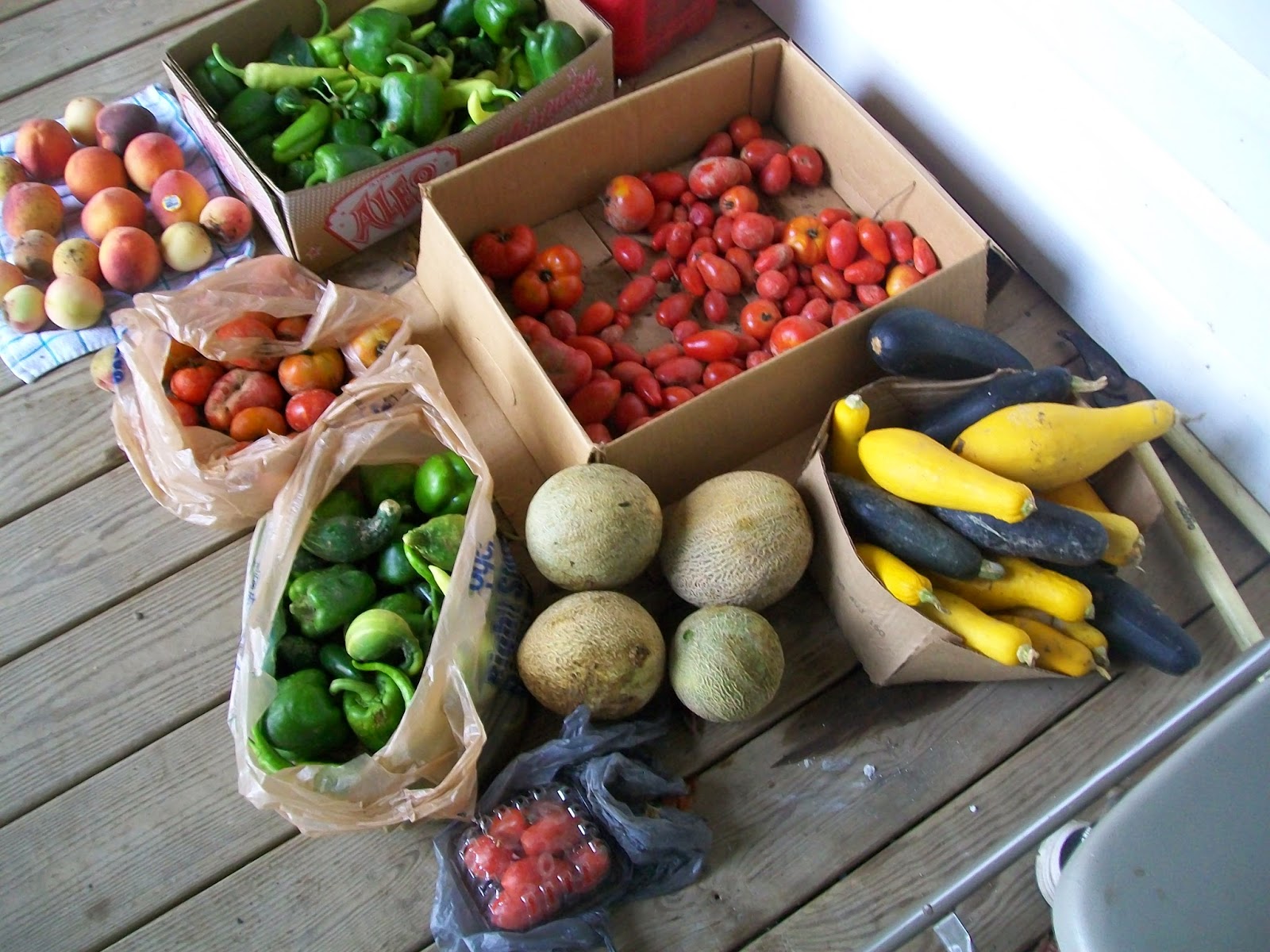 September 2nd, Peppers/tomatoes/squash/melon harvest
September 15th, Pepper and tomato harvest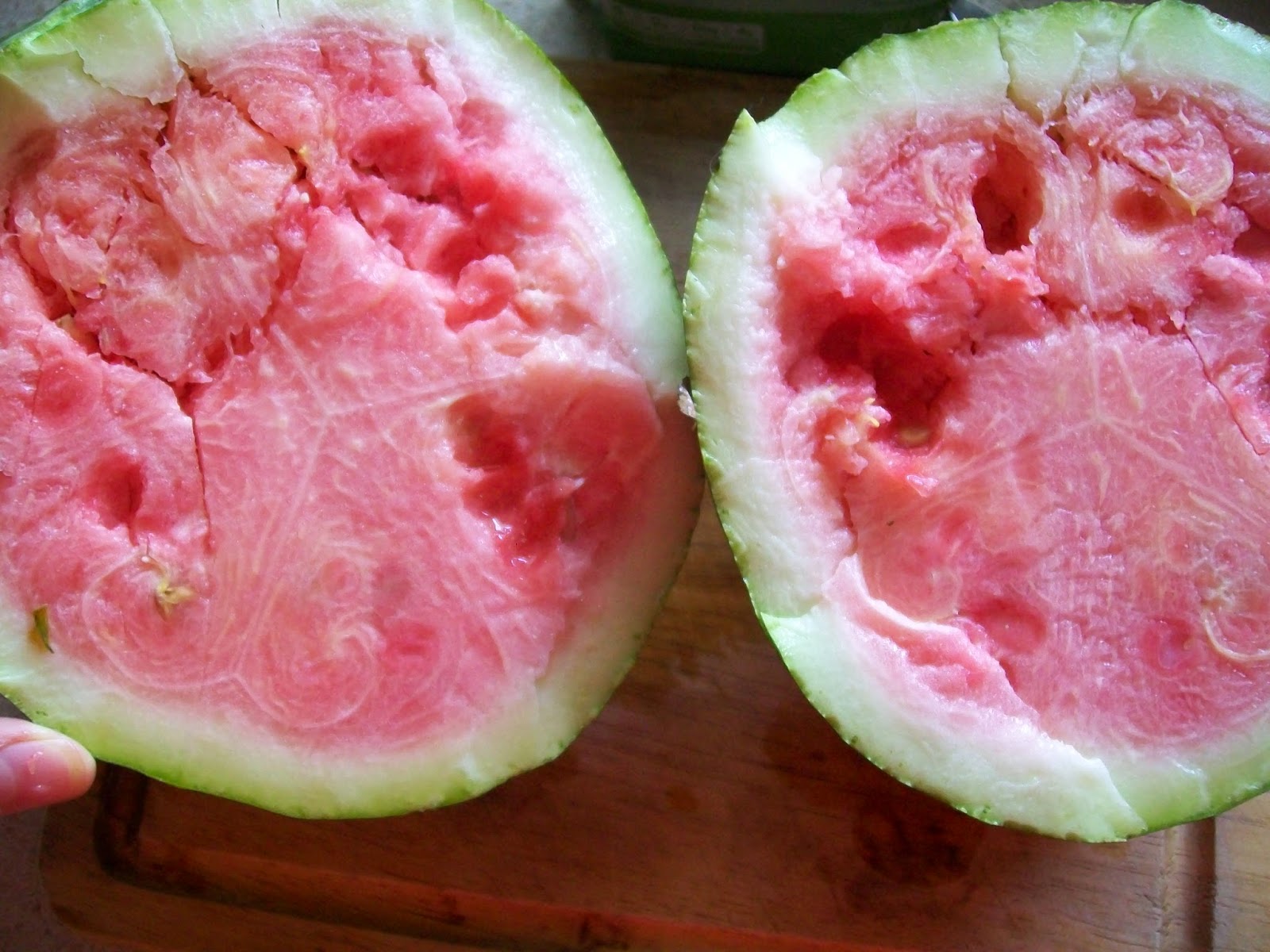 September 20th Watermelon harvest (not ripe)
September 15th potato harvest
September 2014, Pumpkin harvest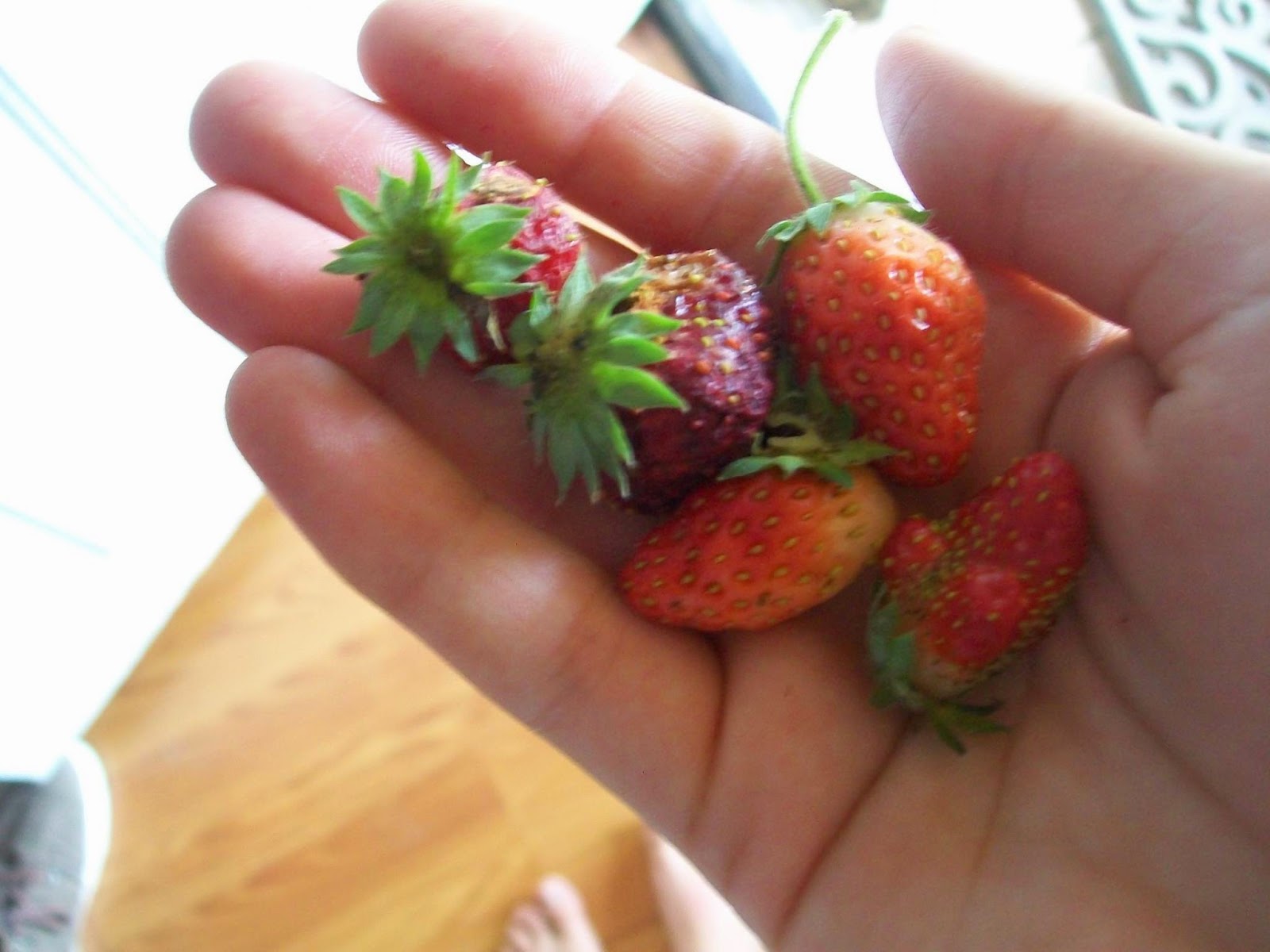 September 13th, Strawberry harvest
September 15th strawberry harvest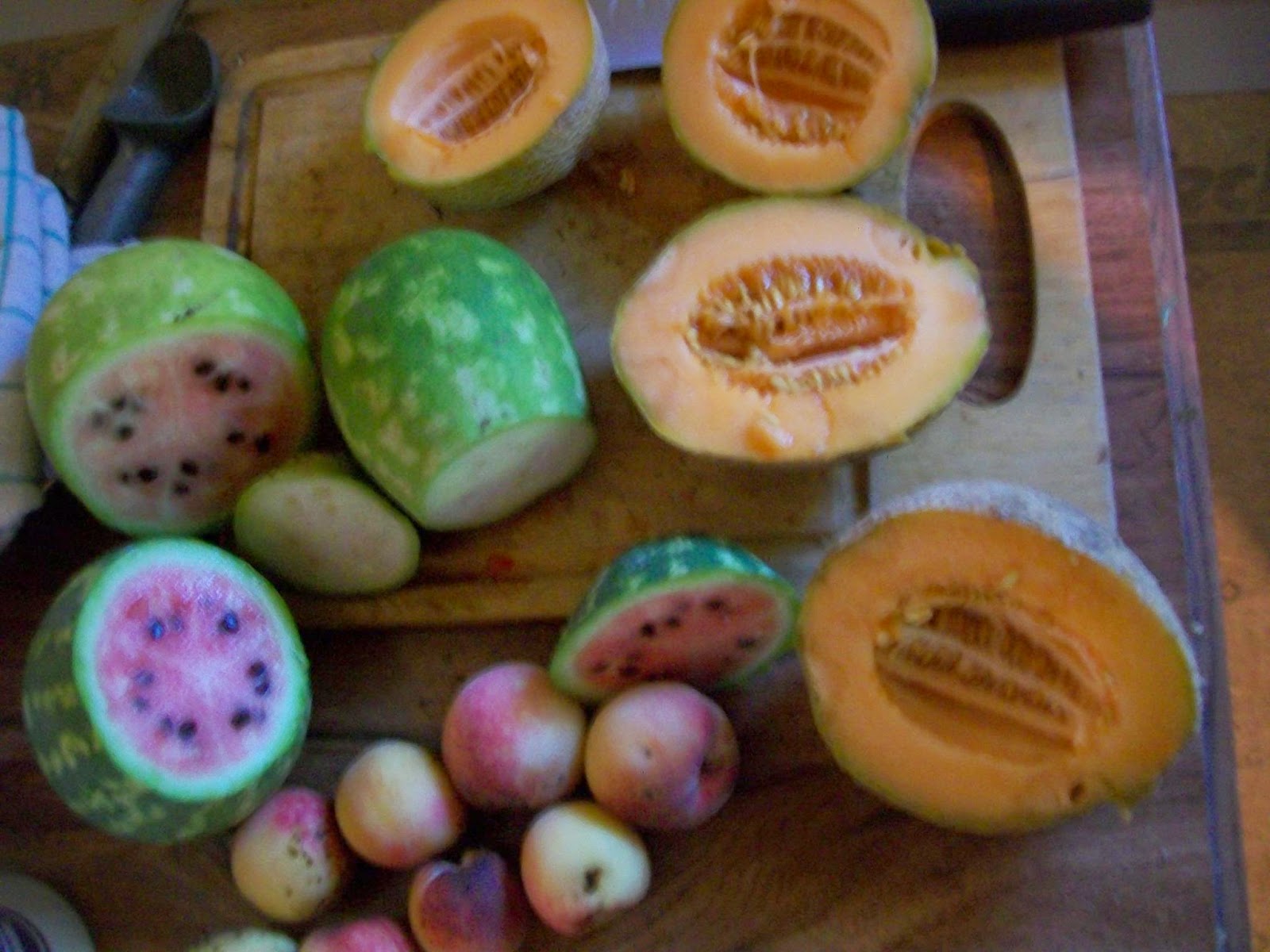 September 15th, Peaches harvested from our tree / Cantaloupe & watermelon (not ripe) harvested from the garden
For previous Monthly Harvest photos, go here: Garden Harvest August 2014 and Garden Harvest July 2014.

Original post @
Zone 6 September/October Garden Harvest (photos)

-Cassie K, Vegans Living Off the Land