Joined

Aug 8, 2020
Messages

33
Reaction score

21
Hardiness Zone

8b/9a (right on the border between two)
Country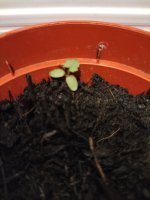 Back in November of 2021,
I posted that I had some cloudberry seeds
. I was excited to finally have a translation for the seed packet too. There is now some progress!
I mixed some horticultural sand with peat-free compost and included some little rocks for drainage. I water them most days because I know they appreciate boggy conditions. I'm a bit worried that if I do elect to go on holiday this year I shall I have to hire a 'cloudberry babysitter' to keep them well watered!
One pot (see photographs) has what is clearly a cloudberry plant. The second pot of the three had a couple of seed leafs, which are probably cloudberry. They grow soooo slowly though (but I am sure it will be worth the wait).
There appears to be a suggestion on the
cloudberry Wikipedia page
that (and maybe I'm misconstruing what is being said here) that cloudberries grow better in wooded rather than "sun-exposed" habitats:
After pollination, the white (sometimes reddish-tipped)

flowers

form raspberry-sized

aggregate fruits

which are more plentiful in wooded rather than sun-exposed habitats.
The citation links me to some Polish university website which I cannot translate and the URL seems to be out of date anyway, seeing as I'm supposed be able to download a PDF but instead it takes me to their homepage (
https://amu.edu.pl/
)
P.S. I did find some Ikea brand SYLT HJORTRON for sale on eBay and I wished it that it could have been an easy way to acquire more seeds but I imagine they have to cook the seeds too to make the jam!