Joined

Jan 22, 2013
Messages

158
Reaction score

66
Location
Hardiness Zone

Zone 8A
Country
We live in Dallas County Texas USDA Zone 8a where the summers are extreme and winters somewhat cold. Continuous four season weather is not always the case.
We are removing the backyard west fence that divides our property from our neighbors and the south fence that borders the street. About 50% of our westward backyard slopes downward at the approximate same degree as ours neighbors property. I'm attaching photo's that better illustrate how the backyard currently looks. The remainder of the back yard is a bit more complex. The other 50% of our yard is higher than the neighbors. At a certain point their property begins a steady downward slope until it levels off at approximately 5' below grade which is at the northwest rear of our property. Confused, you should be. Our northwest backyard to separated from the neighbors property by a cross tie berm. This is best illustrated by a photo of our garden pond and the berm
We cannot install another fence so we are seeking suggestions about how and what to use along our property line. Our current idea is to use evergreen shrubs as a small, low neat hedge. We really need suggestions since we want to get this right the first time. Please ask as many questions as needed. Trees will not be used.
Thank you in advance
Photos:
The left portion of the south fence facing the street and a
portion of west property
line fence. During the project the bird house and pole will be removed and bird feeder pole set straight.
The right portion of the south fence facing the street. The tree shown in this photo is no longer there.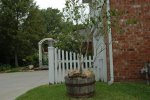 This photo shows our garden pond and in the back of the shot you can see the end of the fence
and the side of our neighbors house. The berm is located at the rear of the pond.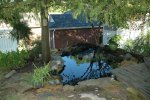 Photos of the berm. In the first two pictures note the narrow space between the berm and the pond wall. Since this shot was taken the rubber liner has relaxed and now goes straight down. In other words more ground space is available for planting. We want to plant something here hopefully to distract the eye from the neighbors house wall. The third photo show a long view of the berm wall and the neighbors low side yard.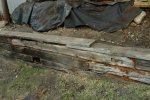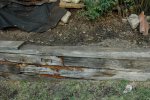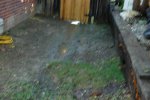 Additional photo - Front of our home