Joined

Aug 21, 2016
Messages

17
Reaction score

4
Country
Hi there,
I have what seems to be an unsolvable mystery of plants dying. I have various species of plants that seem to be getting attacked by something, and it slowly kills them. The leaves die starting from the tips and working to the base. They then fall off. Growth is basically zero. Whatever is killing them, it's beyond the plant basic needs (water, food, sunlight). This has been a continuing issue for 2 years. Below are all the pictures. Soil test results are attached.
Key details:
Location - Bakersfield, CA
Soil type - Sandy Loam (well draining, highly permeable)
pH - 6.0-7.0 from test probe (treated with sulfur in January after soil test showed pH 7.7-8.2)
Water - 3 days/week, 15 min/day
Feeding - Fertigation system, 15 lbs of 20-20-20 fertilizer is spread over 15,000 sq. ft. monthly through sprinkler system.
Important Notes:
Subject Plants: (Bushes) Winter Gem Boxwood, Photinia, Camellia Yuletide, Gardenia, Carpet Rose
(Trees) Quercus Rubra - Red Oak, Ginkgo Biloba
Every bush that is dying is right next too a bush that is doing well, with the same sunlight, water, and food. Something is targeting specific plants.
Whatever is killing them, it seems to be in the same location - because when a bush dies, it gets replaced by another bush of a different species, which also shows the same symptoms and dies.
A soil test was performed, and reviewed by an agronomist with a masters degree. Everything checked out satisfactory with the exception that the soil is low in PNK.
The majority of plants are thriving, but a minority is struggling/dying off.
It is nearly impossible to over-water. The soil is extremely well draining. For example, the Bermuda lawn needs to be watered daily just to keep it green. Cutting water back speeds up the dying process of the subject plants. Increasing water has no effect.
I have consulted a gardening professional (known as the Tree Doctor in Bakersfield) and a professional agronomist also. The agronomist is experiencing some of the same issues across the street. He thinks something more complicated might be the issue, such as fungus, root rotting bacteria, nematodes, etc., but he is unsure of any certain diagnosis.
Soil has been treated with a heavy does of gypsum (1 year ago) because the first prognosis was salt burn. There has been no positive results.
Any professional suggestions would be greatly appreciated.
WINTER GEM BOXWOOD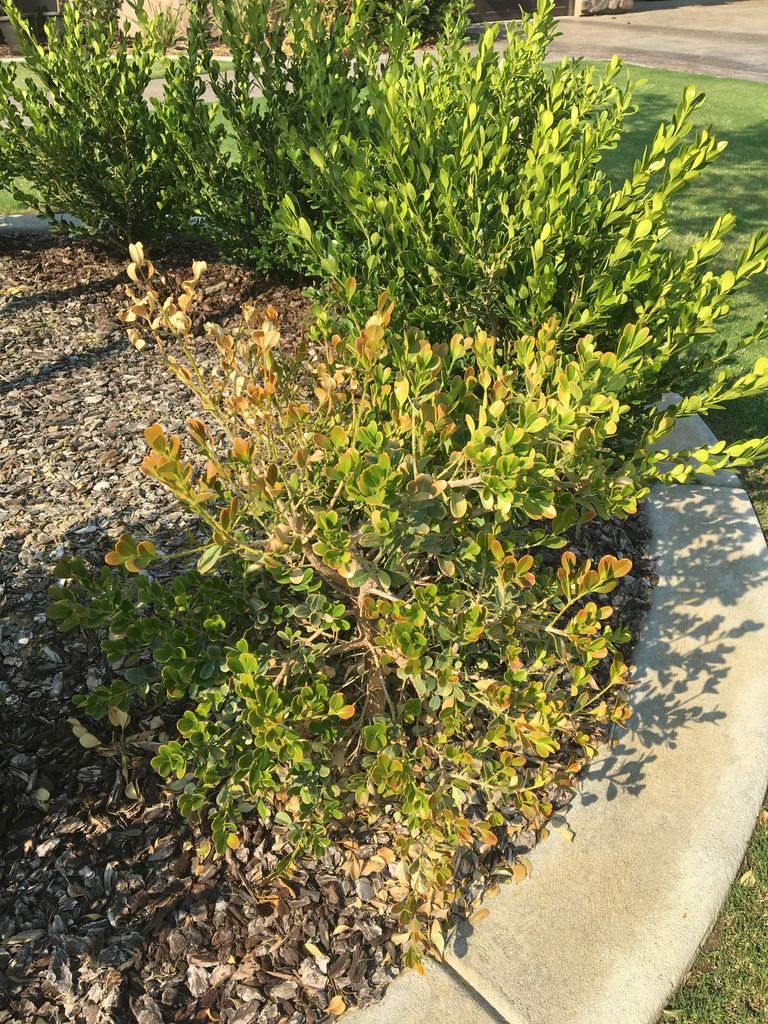 LEAF - WINTER GEM BOXWOOD
GARDENIA
LEAF - GARDENIA
PHOTINIA
LEAF - PHOTINIA
CAMELLIA YULETIDE
LEAF - CAMELLIA YULETIDE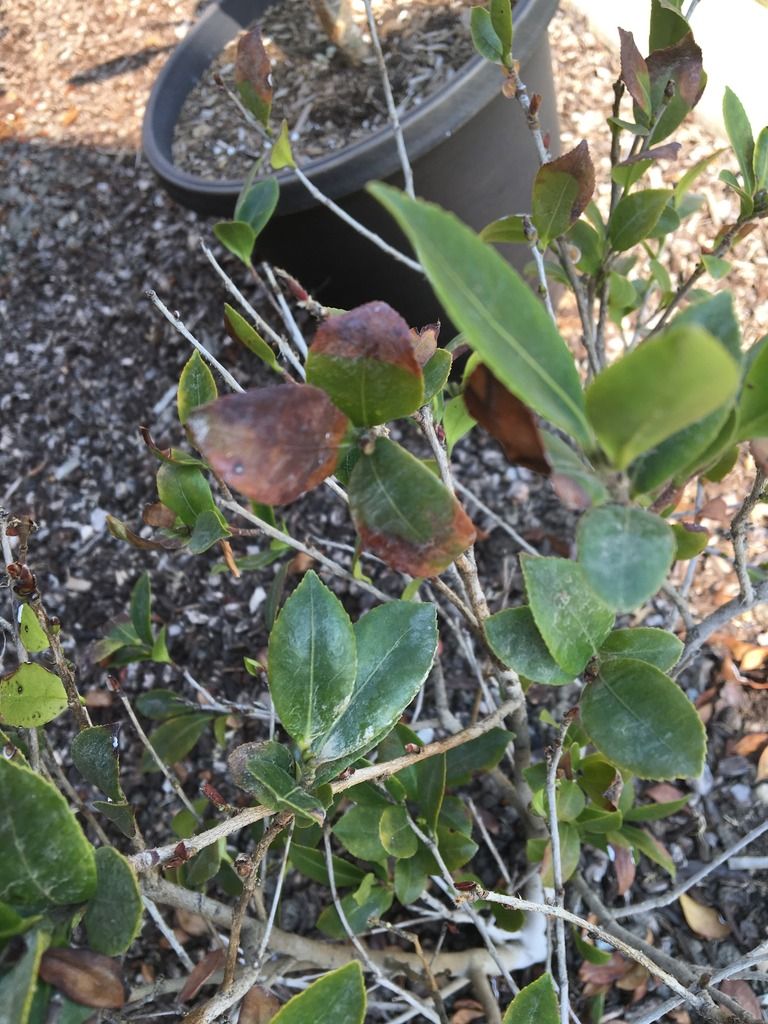 RED OAK
LEAF - RED OAK
GINKGO BILOBA
LEAF - GINKGO BILOBA
ANOTHER WINTER GEM BOXWOOD NEXT TO A THRIVING ONE
CARPET ROSES (dead) - Notice the thriving carpet roses directly across the street. Same watering schedule, same plant.
Thanks so much for any help. I'm desperate at this point.
Thanks,
Kelsey Gallegos