Joined

Feb 17, 2015
Messages

138
Reaction score

43
Location
Hardiness Zone

5b
Country
Hi all!
This post is a little bit introduction, a little bit showing off and a little bit scrounging.
This Christmas, my husband bought me a 6'x8' Harbor Freight Greenhouse - in a long line of not so fabulous Xmas gifts - he sort of hit it out of the park this time.
Anyway, I had some mild weather and an Xmas break so I put it together.
I didn't have much help, hubby might have gotten a great present, but he's not the handy one at the house, but with the benefit of forums online from this and another website, I got a good feel for the challenges I would face putting this little greenhouse up.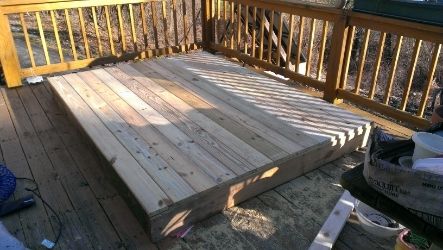 First things first! I made a platform using the dimensions the instructions indicated. They were wrong, but close enough I could fudge things. I used some 2"x8"s I had lying around from a previous deck and bought some foam and decking to make myself a weather tight deck (no drafts from below!). In hindsight, I should have tacked the foam to the decking somehow, I'll know better next time.
Next, I started on the frame. The directions are criticized for being cryptic - and they are - but if you read carefully, everything you need to know is there. I doubt I've ever read any directions so closely in my life, but I was able to get everything done without too many missteps.
Because I'd read many forums on the subject, I knew to tape each of the panels with metal tape on the top and dust preventing tape on the bottom. I also read a couple of forums that complained about the HFGH panels being blown out by wind. My location is somewhat protected, but we are right along a river and can get some wind, so I decided early on that I would silicone all my panels right off the bat.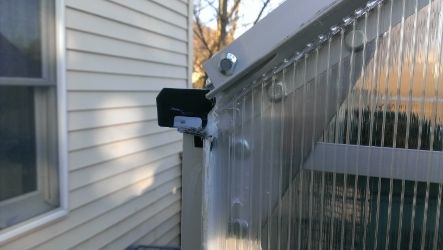 It's not the best caulking job because I am not a pro and because I decided to use the clips that came with the panels AND caulk, but certainly made my little greenhouse air tight. It's great now though I wonder if I am going to value that feature come summer. LOL!
Once everything was finished and sealed up, I moved my shelving and mechanicals into the greenhouse. I have a small hobby solar panel / battery system that I was hoping to power the greenhouse with (In PA? Laugh with me), and ran it into the greenhouse along with a cable for supplemental power for heat and ventilation. I installed the Harbor Freight automatic window opener and found that it doesn't work - at all - and bought another model that sticks down a bit, but I am learning to live with it.
After heating the greenhouse for a few nights without plants in it, it became clear that we were going to need a better strategy. I could keep it at 45 or so with the benefit of my 1500 watt heater running all night, but I was pretty sure I could do better than that. The next purchases were for a programmable thermostat that would turn the heater off when the temps got above 50, a 4'x8' piece of foil backed insulation to cover my northern wall, and a thermal pool cover to add insulation to the clear walls.
I had to add 2x2 framing to the inside of the greenhouse to attach the pool cover to. It simply would NOT stick to the metal and since it was the metal I wanted to insulate the interior of the space against, it made sense to go that way. The wood frame is very simple and the pool cover, in most places, is sandwiched between the inner wall of the greenhouse and the frame. It works well and gives me a place to hang things that the metal frame did not.
An image heavy post, I know, and I hope the site doesn't give me problems posting it, but I've been busting to talk about this greenhouse and my folks are pretty much sick of me by now (and it's only February!). Now you guys can get sick of me too.
Well, I hope not.
Seeds started in the greenhouse (maybe a little early, but I couldn't wait!), winter lettuce, brussel sprouts, celery and onions, with a cilantro plant that was salvaged from a pot I brought in from the deck - will nothing kill those things?
Enjoy!
Ariel