Hi, I bought this jade plant last month. It has been doing very well, but a couple of weeks ago, I noticed it was stretching, so I decided to move it to a brighter spot (getting about 1-2hrs of direct sun). I also gave it a more thorough watering (water till it drains through the bottom) coz previously I was only sprinkling a bit of water.
Not sure which one is the coz, but a couple of days ago I noticed that my jade plant has black spots. On the leaves, on the edge of the leaves. What are they? I googled and it seems to be any number of things, how do I figure out what is the cause? And how do I fix them? The black spots are dry to touch and feel jagged, like something ate at the leaves.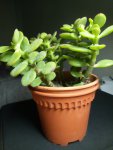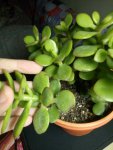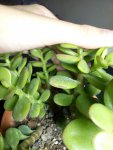 Tiny leaves were turning black from the edges in. I removed these:
Any help is greatly appreciated!