Joined

Apr 3, 2022
Messages

596
Reaction score

180
Location
Hardiness Zone

6b
Country
I've had bad experiences with the flood light type LED grow lights so I recently bought
this cheap LED light from Walmart
to start my vegetables with. I've been playing around with it with some test vegetables to gain some insight before giving it a go in the Spring.
I rigged up a light sensor out of an old Moultrie game camera to a multimeter that gives me an ohms reading with light intensity. With the setup out of the sunlight and the sensor in place, I move the bulbs up and down and test the readings.
I realize this does not allow my readings to be compared to anything else other than what I test with my meter so for a comparison I have tested:
Outside Full Sun: 0.8 kOhms.
Outside Shade: 6.0 kOhms.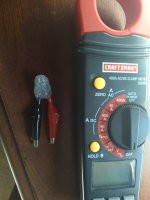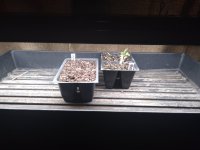 | | | | |
| --- | --- | --- | --- |
| DISTANCE FROM TOP OF SOIL | SENSOR ON EDGE OF FLAT | SENSOR IN MIDDLE OF FLAT | NOTES |
| 1.25" | 235.0 kOhms | 1.8 kOhms | Hood too close and shading the edges of the flat. |
| 2.5" | 9.4 kOhms | 2.7 kOhms | |
| 3.5" | 8.5 kOhms | 3.4 kOhms | Seems to be optimal distance for edge and center readings (whole flat). |
| 4" | 8.5 kOhms | 4.0 kOhms | |
| 5.5" | 8.5 kOhms | 5.1 kOhms | |
| 7" | 9.0 kOhms | 6.2 kOhms | |
| 8.5" | 9.9 kOhms | 7.3 kOhms | |
I've had the bulbs 3.5" away from the soil for about two weeks now. The setup is sitting in a southern window for extra light which has been about half sunny and half cloudy so far. I turn the lights on when I wake up and open the curtains and turn the lights out when I go to bed.
Even though the readings say they are slightly shaded these tomato seedlings don't appear leggy and are growing towards the bulbs and not the sunlight but I think the sunlight must be helping them. I'm not sure if the bulbs would produce enough light on their own without some sunlight to back them up. But as the seedling grows towards the bulbs they get more light and so far it seems like they are happy but that could change as things progress.
I did previously remove a couple tomato seedlings that were a bit leggy on a higher distance and have recently started test cucumbers which haven't emerged yet.