Over the last three years, I have bought several different varieties of fruit trees, bushes, vining fruits. For example we bought three blueberry bushes and bought five more this year (one died). The blueberries we harvested a couple months ago, came from the blueberry plants we bought this year.
First blueberry from the garden
7 blueberry plants
I believe the birds ate most of the blueberries, I harvested maybe four of the 50+ blueberries I saw growing. Well the birds also ate most of the strawberries, but I fortunately placed Garden figurines beside the Strawberry plants. The very day the birds quit touching the berries.
You may have read that I transplanted nearly 300 Tomato starters this year. The majority of the Tomato plants (approx 200) came up volunteer from the strawberry beds you see below. I am convinced that next year I will be able to rely on
Strawberry bed 1
Logs used as frames, pine used as mulch, compost for soil and nutrition-- all resources that were free. The strawberry plants will cost you about $1 per plant. Strawberries are one of those Fruits that put off the same year you plant too!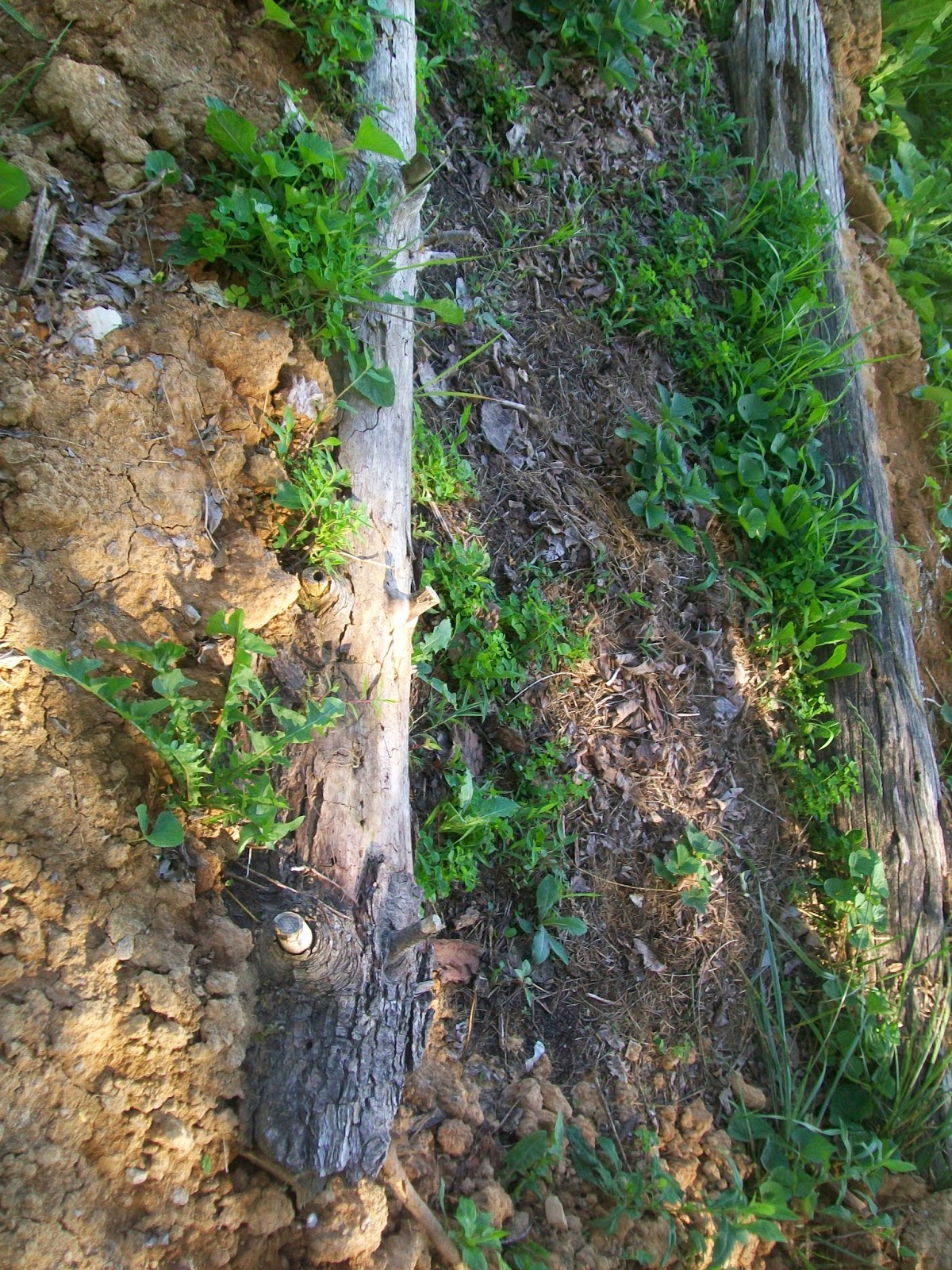 Strawberry bed 2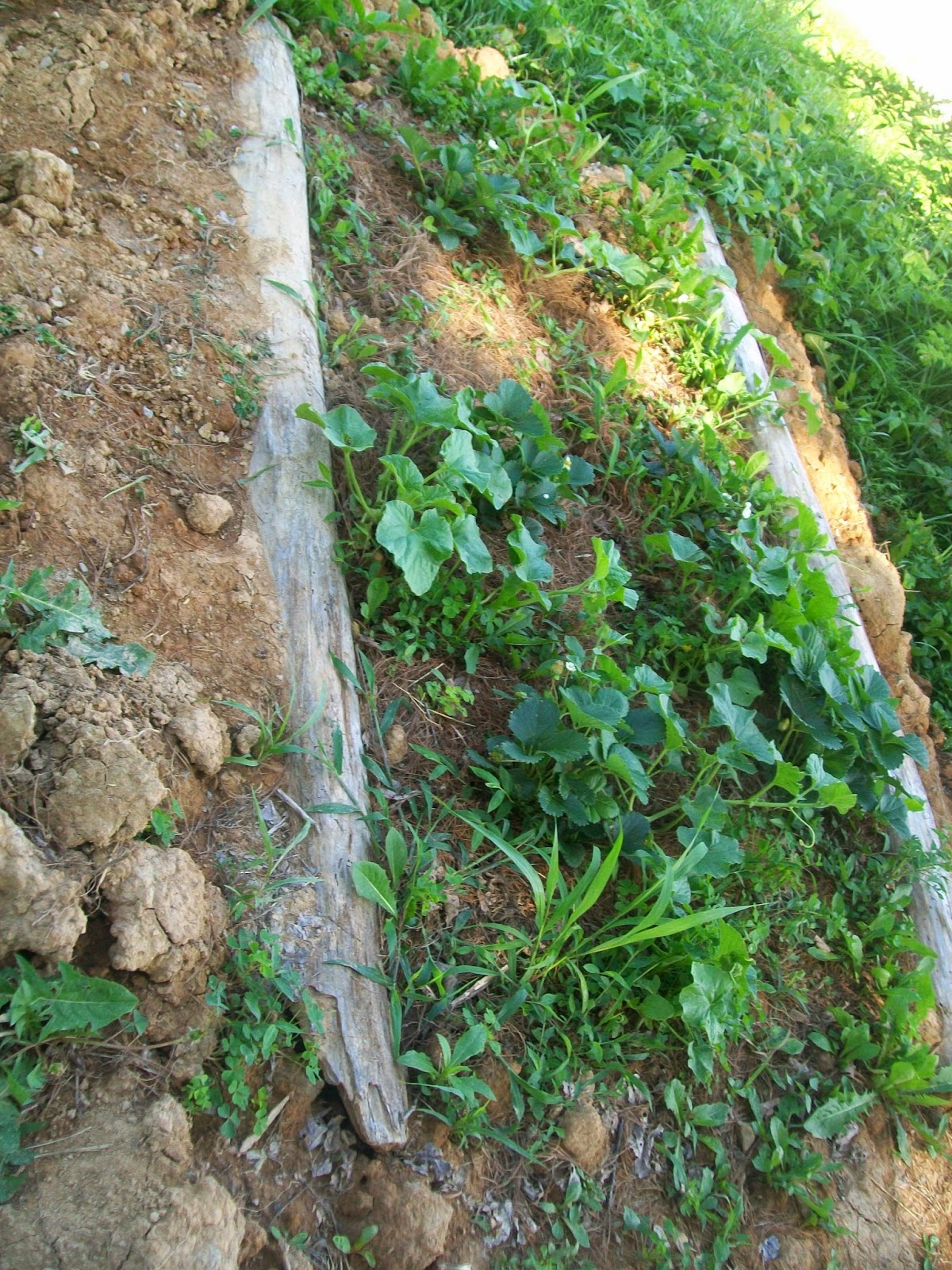 Strawberry bed 3
My (two) grape plants are progressing. Actually I ate one grape today that turned purple. It tasted much like sour apple jolly rancher and the texture was like the candy too.
Below, my old Peach tree (30+ years old). It has approximately 10 Peaches growing. Last year we had over 100 Peaches growing. This year however a Late Frost killed most the blooms, and several have fallen too early.
Old Peach Tree
Below is a picture of my younger Peach Tree (3-4 years old). I bought this Peach tree from Arbor Day, which states this variety produces fruit after 3 or 4 years, so I expect it to fruit next year. This variety is Golden Jubilee which self-fertilizes.
3-4 year old Peach Tree
The Fig Trees and Cherry Trees are putting off shoots to make new trees. I was worried the two Fig Trees and two Cherry trees were completely dead.
I hear Fig Trees grow well in Pots, so I may purchase several more to experiment in growing them in containers. My variety of Figs are called Chicago Hardy Figs, suitable for Growing Zones 6 or higher.
The other photo below, a Plum tree called the Damson Plum (tart) variety, self-fertilizing, grows up to 10 to 20 feet tall and wide.
Fig Tree 1
Fig Tree 2
Cherry tree sprout
Plum tree
Other Fruit Trees I have, two Pear Trees, and Kiwi plants. As I done with the Fig Trees, I purchased a Cold Hardy variety of Kiwis. Simply called Hardy Kiwis, they are a fast-growing, climbing vine, and is capable of surviving slow temperature drops to -30°F (-34°C). Kiwis take approximately threes years to begin producing Fruit. Flowering usually occurs in May, and they need a male pollinator. A male pollinator can enable six female producers to Fruit.
Kentucky was hit hard last Winter, one of the worst in 30 years! Around November I cover mulched these plants in leaves halfway up those poles.
The poles you see were re-purposed from an old playground. I
almost
always
obtain
free
materials within the Garden. My goal is to avoid purchasing resources altogether, but we do what we can in the meantime.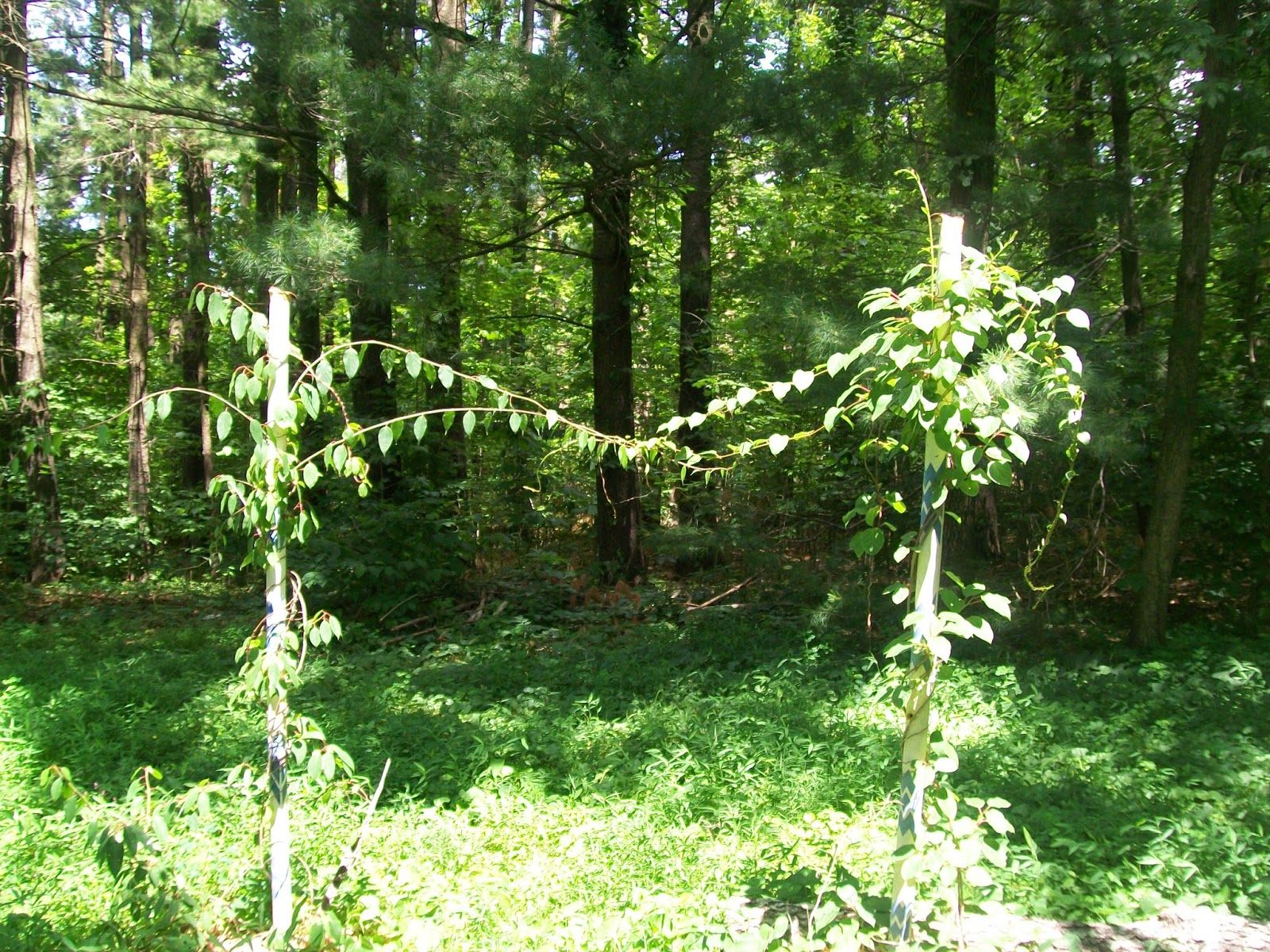 2 of 3 Kiwi plants survived the Winter
Below are the 3-4 year old Pear trees, the Kieffer variety. They are self-fertilizing but do best with two trees for better crop; Very hardy and tolerates hot climate, from Zones 4 to 9; and grows to 15' to 30' tall, 12' to 20' spread. I also purchased the Pear trees from Arborday.org (as well as the young Peach Tree and Plum tree).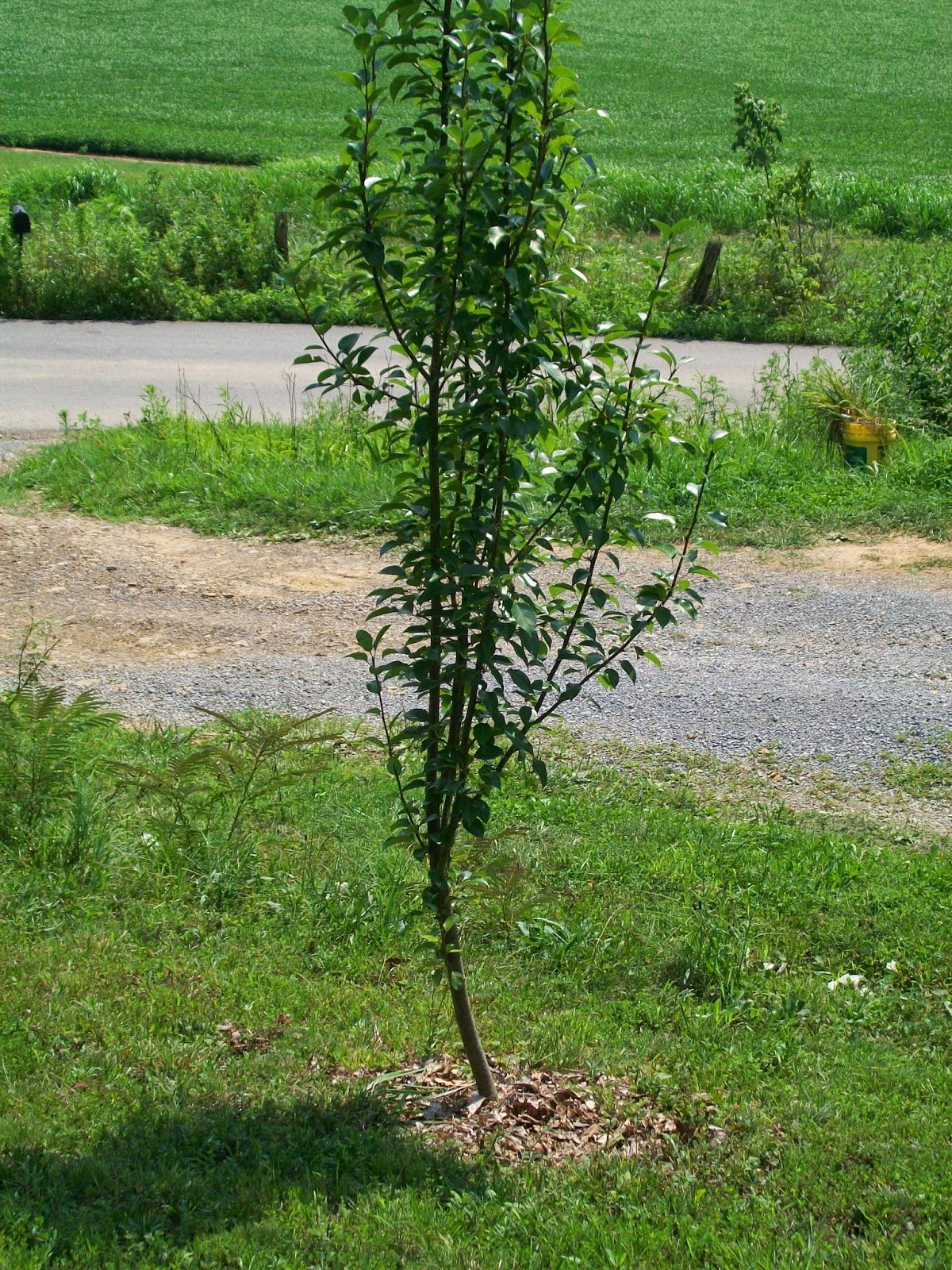 Aside from Fruit trees, I am growing many Vegetable fruits including Yellow Squash, Zucchini, Butternut Squash, Pumpkins, Tomatoes, Peppers, Cucumbers. Also I am growing beans, corn, potatoes, and greens.
I am most happy with the progress of one cantaloupe plant, which has five medium to large-sized fruits and three are small to medium-sized. See video of cantaloupe growing strawberry bed, go to video
"progress on Cantaloupe & pumpkin n the compost"
And for the Watermelon & Cantaloupe Garden tour, go to video
"watermelon cantaloupe & corn ready to harvest"
.
Considering melons are high maintenance and Kentucky weather is not the best conditions, I am excited to harvest several healthy melons. Then again, I purchased $10 worth of seeds this year on Cantaloupe and Watermelon seed, after several transplants most died, and the remaining melon plants have no produced any fruit. Last year I had the same success with the Melons.
For now, we have a small variety of fruit trees, but of course we buy additional fruit every year to add to the collection.
Ultimately, a lifestyle that represents lessening the amount of cruelty, environmental impact, and exploitation of workers or customers is a diet and lifestyle centered around growing your own food, specifically living off the land of your fruits. When you grow your own fruits and vegetables, you can control avoiding harm to bugs and animals and the environment when you avoid pesticides, herbicides, etc. There are many cruelty free techniques in gardening. Matthew David gives examples on Ethical & low maintenance gardening
here
.
Another aspect of eating a diet of fruits and vegetables is spreading the seed to create future food, in abundance.
I am interested to know or see your own collection of Fruit trees. Are you growing a food forest?
-Cassie K, Vegans Living Off the Land

Original post @ Fruit trees & Fruit bushes we are currently growing (Garden update July 2014)