Hi all,
I new to this forum and appreciate any help.
I have a mango tree for several years and this is the first year it finally give some considerable amount of fruit.
In past couple of weeks however, many of the fruits began to crack and fall after several days.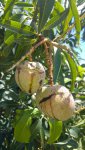 What could be causing this?
Thank you