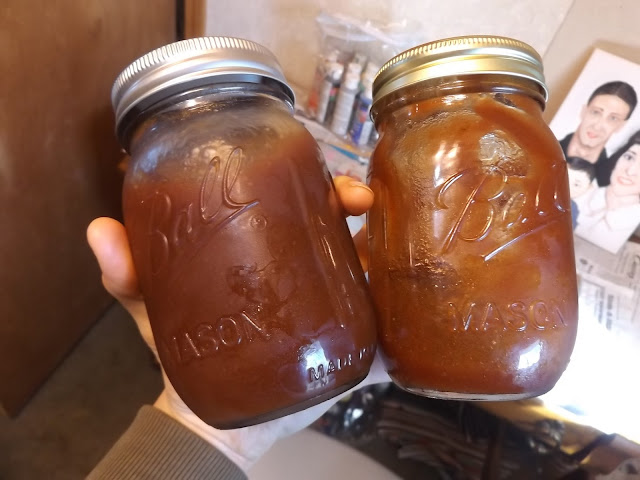 Apple butter is processed in different ways, but I used the traditional slow cook method. This method is supposed to take one full day of processing, but I ended up cooking the apples for two days. Also the recipe I used called for 4 cups of sugar, and I reduced that to 3 cups; but I think only 1/2 cup to 1 cup of sugar for 5 lbs of apples would suffice. In fact, my apple butter was too sweet with 3 cups.

First I peeled, and chopped the apples to add to the slow cooker. I cooked 5 lbs of apples (approx 10 apples) in a slower cooker with cinnamon, allspice, and sugar. Every couple of hours, I would stir the mixture. Once the mixture became close to the consistency desired, I thoroughly mixed it in the blender for 15 seconds, and added to sterilized jars. This batch made 4 cups of apple butter, which filled two 1 pint jars.
Serve with homemade bread or as a dip for pears, apples, or other fruit. Also, you could add a little to smoothies.
Original post @ Apple Butter from foraged apples

-Cassie K, veganslivingofftheland.blogspot.com