Joined

Jul 26, 2013
Messages

556
Reaction score

439
Location
Showcase(s):
Hardiness Zone

7b
Country
When I first got into Hoyas it was with a small leafed Hoya bella that makes a great hanging plant and doesn't have the vining characteristics of many types of Hoyas I'd been introduced to in the past. The Bella is easy to start and I am many generations down the road since I give away the parent plants when they get too big and keep a small pot of starts.
Other easily started Hoyas with small leaves and a hanging habit are curtsii, retusa and lacusosa. Although I have only had these varieties a year they have grown quickly and I have already propagated cuttings from my original small starts purchased online. A failure for me has been the Hoya linearis. It requires more humidity than my home provides.
I was given a huge Hoya carnosa that I have trellised and hanging. Other carnosas in my plant family are carnosa krimson queen, carnosa krinkle, carnosa compacta (Hindu rope). Each have slightly different growing habits for me. The Hoya obovata has large round leaves and a very thick stem with a vining habit similar to the carnosa.
Another leaf type are the kentiana or string bean Hoya that has a very vining habit and the wayetii Hoya that has more of a draping habit. It's leaves are much wider than the kentiana but still very elongated.
Last but not least is my Hoya pubicaly splash. Gotten online as a cutting last year it is just beginning to vine. It's habit and size is similar to the carnosa.
The following photos are for leaf size and habit comparisons because nowhere in my search could I find leaf and habit comparisons. Sorry that the quality isn't very good but it should give a side by side comparison for many of them. Maybe this will help someone in making purchasing decisions. Hoyas can be an easy great plant to grow and they a variety of leaf structures and growing habits for me to find them interesting.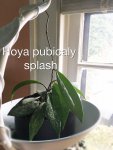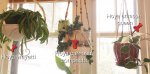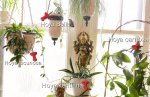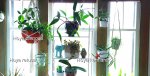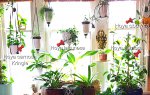 If you have any favorite Hoyas please feel free to post them here. I love seeing others plants.