Joined

Sep 9, 2018
Messages

294
Reaction score

264
Location
Hardiness Zone

6A thru 5B
Been mowing ditch banks for some time for people. Used string trimmers which works fine but you have to be really steady to get an even trim.
Have use a couple types of power mowers but lusted for a AWD model after they came out.
I kept seening referbished ones at Lowe's and thought about buying one of those.
2016 I had a April knee replacement surgery so I was not mowing any ditches. Lowe's put them on sale at that time. Last day of the sale I went and bought one. they were very nice and loaded it up in Kare's Jorunney and brought it home. At home I used my home made ramps to unload it.
I had read reviews on this mower
I swear some people are the stupidest lazyest things on earth
. I am healling yet in June and had no problem unboxing The mower as severl people posted in the review how hard it was. I pretty much assembled the thing in thre box filled it with gasoline and oil used a utility knife to cut two sides and drove the mower out of the box.
I have now been mowing ditches with it for two full summers and love the machine. I did have a recoil starter problem with the BS engine. No biggy I used my cord less drill to start it till I could reenginner the factory starter.
Since I employeed a big fernder washer and some JB weld the starter works like it should.
Huskvarna AWD mower in action.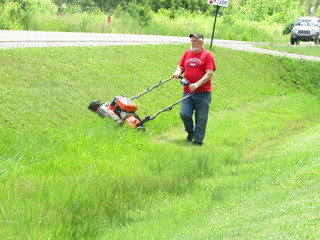 Of course I wear base ball cleats so I do not slip while mowing and the dead man switch is tested to make sure it works.
Al