I built 2 small green houses with pressure treated 2x4 lumber insulated with 1½" thick Styrofoam boards. A thermostat and a 60 incandescent light bulb keeps it warm inside every night. It was 34°f this morning and 60°f inside the green house. I think 60° is good all night, it gets very warm inside 100°f when the sun comes up. I have carrots planted in 1 green house and potatoes planted in the other green house. It was -2°f about 2 weeks ago, potatoes plants look good, carrot plants ate small. I have a piece of glass from a house window on both green houses. So far so good.
I sprinkled 250 onion seeds under an upside down fish aquarium. I hope to have 250 onion plants to transplant March. Onion seeds always seem to have poor germination.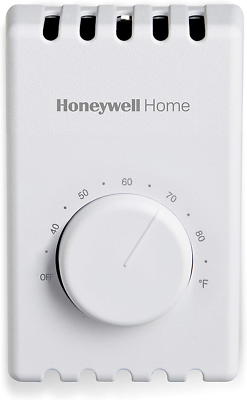 Find many great new & used options and get the best deals for Honeywell Home CT410B Manual 4 Wire Premium Baseboard/Line Volt Thermostat CT... at the best online prices at eBay! Free shipping for many products!